Summary of the technology
The prototype developed within ERC-PoC "ANTS" project, has demonstrated its sensitivity for a new concept of microcalorimeters, as well as providing advantages in microfluidics.
We aim to:
a) Integrate this technology within microfluidic devices or applications where size and fast response time are crucial.
b) Develop a High-Throughput Calorimetry going beyond the current capabilities on ITC.

> Sensing element. Ferromagnetic permalloy line 4x28 µm x 20 nm thick: affordable, miniaturization… Sensor was fabricated in a single deposition.
> Temporal response. Milliseconds, to stimulus >10 microwatts; further improvements are in progress.
> Easy adoption. Compatible with standard configuration of microcalorimeters.
> IPR: EP, US, CN, KR, JP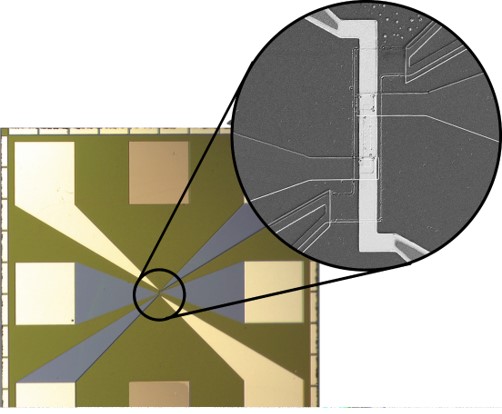 Description of the technology
KEY CHARACTERISTICS:
SPATIAL resolution: due to its tiny size (combined with microdeposition and patterning), it offers a possibility for the integration for microfluidic detectors or other applications where the size and fast response time are crucial.
TEMPORAL resolution: our tests have already demonstrated a milliseconds response to stimulus of microwatts.
THERMAL resolution: the thermal voltage generated scales with the length of the line (irrespective of its thickness); thus, a zig-zag configuration will improve its thermal sensitivity still with micron-size resolution.
Easy adoption: compatible with standard configuration of microcalorimeters.
Intellectual property status: Patent application number : EP3184981 (A1), US2017268936 (A1), CN107076622 (A), KR20170045252 (A), JP2017532534(A).
Current development status: Laboratory prototypes.
Intellectual property status
Additional information (attached documents)
Related keywords
Nanotechnologies related to electronics & microelectronics
Industrial manufacturing, Material and Transport Technologies
Micro- and Nanotechnology
Measurements and Standards
Measurement Tools
Sensor Technology related to measurements
Electronics Related Market
Industrial Products
Industrial measurement and sensing equipment
About Universidade de Santiago de Compostela
Technology Transfer Office from Spain
Universidade de Santiago de Compostela
The CiQUS (University of Santiago de Compostela, Spain), addresses challenges in Biological and Medicinal Chemistry, New functional Materials and Synthetic Technologies for Sustainable Development.

CiQUS hosts 20 research groups, including 5 ERC projects.
> 90-100 papers/yr, average Impact Factor IF=7,10 JCR. 82%Q1, 45%D1 (2016-2017).
> 2014-2017: 4,70 M €/yr from competitive R&D funds (27% international, 18% private), 16 patents, 2 licenses, 3 spin-offs.
Technology Offers on Innoget are directly posted and managed by its members as well as evaluation of requests for information. Innoget is the trusted open innovation and science network aimed at directly connect industry needs with professionals online.