Resumen de la tecnología
La Universidad de Burgos ha patentado una metodología para la síntesis de derivados de perileno diimidas (PDI), para los cuales no existía ningún procedimiento de obtención, y su uso en diferentes aplicaciones como bioimagen o biomarcador.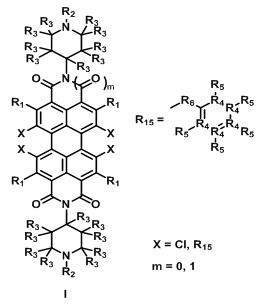 Aspectos nuevos e innovadores
La gran versatilidad de la metodología desarrollada permite obtener compuestos con dos posiciones de funcionalización, permitiendo interaccionar con distintas dianas y así controlar la especificidad biológica (qué se va a detectar y a qué partes de la célula irá), y, en las posiciones bahía, seleccionar el color de emisión para modular la emisión fluorescente.
La bioconjugación, estrategia química de formación de enlaces estables entre diferentes biomoléculas, presenta algún inconveniente, resueltos empleando esta nueva metodología propuesta. Además, se evita tener que desarrollar sistemas específicos para cada aplicación, lo que supone un gran ahorro de costes y amplía su campo de acción en múltiples sectores.
Principales ventajas derivadas de su utilización
Las alternativas disponibles en el mercado muestran bajas fotoestabilidades, son muy sensibles al pH o fuerza iónica y sus intensidades de emisión fluorescentes son bajas. Además, suelen presentar longitudes de onda de emisión bajas, por lo que pueden tener lugar fenómenos no deseados como autoabsorción de energía o scattering.
Las perileno diimidas (PDI) obtenidas mediante la presente invención poseen muchas características deseables que solventan las deficiencias del mercado, como: gran fluorescencia, alta estabilidad química y óptica, estabilidad frente a la radiación, diferentes longitudes de onda de emisión fluorescente en función de los sustituyentes en dichas posiciones y la posibilidad de una fácil funcionalización en las posiciones N y N'. Además, exhiben rendimientos cuánticos elevados, que pueden incluso llegar a la unidad.
Características técnicas
Las modificaciones realizadas en los sustituyentes de las moléculas orgánicas conocidas como perileno diimidas (PDI) o perileno bisimidas (PBI) alteran su solubilidad, haciéndolas versátiles en distintos medios, tanto orgánicos como acuosos. Las variaciones en los sustituyentes de las posiciones imida no afectan significativamente a sus propiedades fluorescentes, permitiendo la inclusión de biomoléculas bioconjugables, mientras que en los sustituyentes de las posiciones bahía, modifican sus propiedades luminiscentes, permitiendo modular las longitudes de onda de emisión del fluoróforo resultante.
Gracias a la bioconjugación se obtienen sistemas novedosos con características únicas, como, por ejemplo, la emisión fluorescente. En este caso, se considera la posibilidad de su uso como biomarcador específico en campos como bioimagen, terapia y diagnóstico.
Aplicaciones
El mercado potencial es relativamente amplio debido a la versatilidad de esta tecnología. Sus posibles aplicaciones se encuentran en múltiples sectores, como, por ejemplo: medicina, ciencia de materiales e industria agroalimentaria. Como aplicaciones más concretas se pueden citar:
Realización de kits particulares para bioconjugación, específicamente marcadores fluorescentes en el campo de medicina que permiten la realización de diagnósticos y seguimiento de tratamientos específicos.
Detección de especies contaminantes biológicas de gran interés en la industria alimentaria como son las enterotoxinas o la avidina (sistemas PDI-Biotina)
Estudio de células epiteliales (sistemas PDI-mupirocina).
Marcado, rastreo o determinación de la biodistribución de proteínas.
Seguimiento de eventos celulares como administración de fármacos a células diana y estudio de funciones enzimáticas entre otros.​
Propiedad Intelectual
Protegida por patente de invención P201830029.
Estado actual de desarrollo
La tecnología relativa al método de sintesis esta desarrollada.
Relación deseada
Acuerdo comercial, Acuerdo de licencia, Cooperación técnica: un mayor desarrollo, Cooperación Técnica: testar nuevas aplicaciones; Cooperación Técnica: adaptación a necesidades específicas.
Intellectual property status
Información adicional (documentos adjuntos)
Palabras clave relacionadas
Industrial Technologies
Biological Sciences
Agrofood Industry
Protecting Man and Environment
Measurements and Standards
Measurement Tools
Chemical material testing
Genetic Engineering Technology
Biology / Biotechnology
Genetic Engineering / Molecular Biology
Medical Health related
Industrial Products
Other
Clinical Medicine
Metering and monitoring
medicina
materiales
contaminantes
fluoróforos
perileno
diimidas
método
bioconjugación
biomarcadores
bioimagen
diagnóstico
agroalimentación
fármacos.
Sobre Universidad de Burgos
Oficina de Transferencia de Conocimiento de España
UNIVERSIDAD DE BURGOS
El objetivo de la Oficina de Transferencia de Conocimiento (OTRI) de la Universidad de Burgos es promover la Innovación tecnológica a través de la transferencia de resultados de investigación y las conexiones entre la Universidad y los nuevos requerimientos y realidades de la sociedad - somos el vínculo entre la Universidad y la Industria. Persona de Contacto: José Manuel López (jmllopez@ubu.es)

Technology Offers on Innoget are directly posted and managed by its members as well as evaluation of requests for information. Innoget is the trusted open innovation and science network aimed at directly connect industry needs with professionals online.