Summary of the technology
The University of Burgos has developed a new solid electrical conductive polymer material, preferably as film or coating, using non-conductive polymers. This material can be used in the production of resistive or conductive sensors for substances of interest, both in gas phase and in solution, or for use in electrical and electronic systems.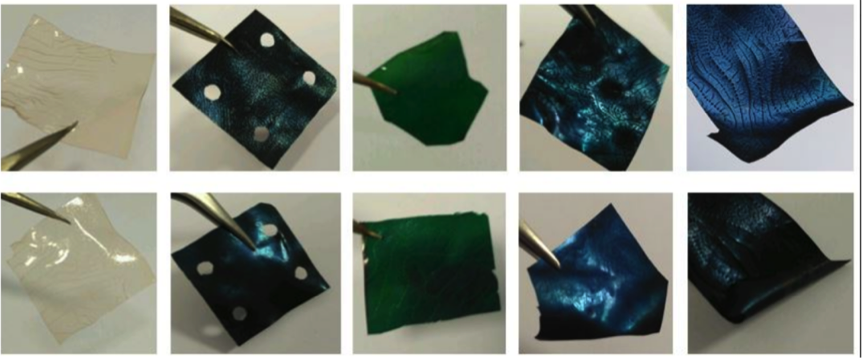 New and innovative aspects
The process of obtaining the conductive polymer material allows getting a series of tailored properties depending of the use that is desired to give at the material. This is possible based on the selected monomers that form the initial non-conducting structure which can present characteristics such as flexibility, stiffness, chemical resistance, thermal resistance, hydrophilicity, hydrophobia, to name some relevant property in the area of materials applications, where the conductivity can play a special role in innovative applications.
Main advantages of its use
The main advantage is that this polymeric material can be produced easily and the fact that there are chemical bonds between the starting acrylic material and the conductive polymer chains. In this way homogeneous materials are obtained in the form of solid membranes, easy to handle and with good mechanical properties. At the same time this polymeric material owns conductivity values of a semiconductor material or even a metal.
Specifications
The invention relates to conductive polymers based on polyaniline sequences and, therefore, it is included in the area of conductive and semiconductor materials.
To be precise, the invention provides conductive polymeric and semiconductor electrical materials prepared by growing polyaniline side chains from non-conducting polymers with aminophenyl side groups in their structure, in the form of films or coatings.
Applications
They can be used as semiconductors in electronics, as substitutes for metallic conductors, in the preparation of photovoltaic cells. It can be used as a conductor in electronic circuits and also in the lightening of parts that have to conduct electricity (metal substitute), sensors of chemical species, etc.
 In fields such as automotive and aeronautics, for example, it can mainly be used as antistatic material in paints, inks, fabrics and adhesives.
As a material that can change color depending on the state of oxidation, it can be used in the manufacture of electrochromic devices, smart windows and electronic paper.
Application in the field of Bioengineering.
Application in the field of Nanotechnology.
Intellectual property status
Protected by patent  P201631147.
Current development status
In use, test results available.
Desired business relationship
Commercial agreement; License agreement; Technical cooperation: further development; Technical cooperation: testing new applications; Technical cooperation: adaptation to specific needs.
Related keywords
Electronics, IT and Telecomms
Industrial Technologies
Energy Technology
Measurements and Standards
Consumer related
Industrial Products
About UNIVERSIDAD DE BURGOS
Technology Transfer Office from Spain
UNIVERSIDAD DE BURGOS
The aim of the The Technology Transfer Office (TTO) of the Univesidad de Burgos is to promote Innovation technology through the reseach results transfer and the conexions between the University and the new needs and requirements of the society - we are the link between the University and the Industry. Contact person: José Manuel López (jmllopez@ubu.es)

Technology Offers on Innoget are directly posted and managed by its members as well as evaluation of requests for information. Innoget is the trusted open innovation and science network aimed at directly connect industry needs with professionals online.