Summary of the technology
A research group at the University of Burgos have patented different materials whose base is gypsum and construction have improved properties, especially for the use of the same mass as coatings or to prefabricated interior. The feature common to all is that different wastes are used for which the criteria for their use and basic dosages to ensure strength and durability are set as well as a high degree of performance and application.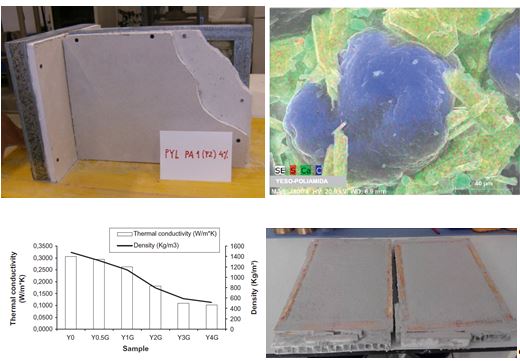 New and innovative aspects
Getting lightweight materials with improved properties compared to conventional mixtures (eg optimizing some of the basic properties such as workability, permeability and rheological behavior to force loads) and a good performance of provision.
The values obtained are similar to other construction materials used for thermal insulation, which suggests that he plaster with same polymer wastes could be an alternative to these products as a material with improved thermal properties.
Main advantages of its use
The main advantages are the environmental and economic as well as improvements in product performance. To obtain these materials are recycled and reused materials of various kinds, usually very difficult to degrade by non-mechanical methods, due to their chemical stability.
Specifications
- Process for obtaining lightweight plaster to fabricated polyurethane foam wastes.
This invention involves the obtaining of new lightweight plaster material for use in construction, in which matrix are incorporated industrial rigid polyurethane foam wastes. Polymers are mixed after ground with gypsum to different granulometric sizes depending on the final use..
- Process for obtaining lightweight gypsum with polyamide powder residue.
This patent is focused on the use of polyamide powder waste to produce a new lightweight plaster material with improved thermal properties for industrial applications according to building regulations. Plaster blends were prepared using different volumetric proportions of polyamide.
- Design and properties of plaster mortars manufactured with ladle furnace slag
This material is made with a series of plasters containing different proportions of ladle furnace slag used as mineral aggregate. The tests characterise the influences of two admixtures: a superfluidifier to reduce the water absorption of mortar plaster and an adhesive emulsion to improve the surface adherence. The physical and mechanical results confirm the feasibility of employing ladle furnace slag as a mineral aggregate, which induces an increase in density, in vapour permeability and in porosity.
- Process for obtaining building plaster mortars with artificial crushed quartz stone.
This invention obtain clusters of gypsum and plaster with rejected industrial quartz aggregates for its use in construction, with different colors and design with improved fire properties compared with reference products.
- Prefabricated plasterboard with lightweight polyurethane wastes
The invention proposes the development of a process for producing lightweight plasterboards for use in interior walls in a simple way. The material allows plates with different dimensions and thicknesses depending on the application. The non-combustibility test confirms that the polyurethane waste may be used in the manufacture of gypsum plasterboard in compliance with the specifications that are found in the standard.
- Prefabricated plasterboard with polyamide powder waste
This patent shows that the increase in the quantity of polymer waste implies important reductions in its mechanical resistance and surface hardness, while improving its thermal resistivity.
Applications
Companies in the civil construction sector. Use in coatings for interior mass or precast
Intellectual property status
Protected by patents P201001011, P201100886, P201200092, P201300296, P201300464 and P201300846.
Current development status
In use, test results available.
Desired business relationship
Trade Agreement, License Agreement, Technical cooperation: further development, Technical Cooperation: testing of new applications; Technical Cooperation: adaptation to specific needs.
Related keywords
Industrial Technologies
Energy Technology
Protecting Man and Environment
Social and Economics concerns
Energy Market
Consumer related
Industrial Products
Other
lightweight materials
plaster material
recyclable materials
construction materials
About UNIVERSIDAD DE BURGOS
Technology Transfer Office from Spain
UNIVERSIDAD DE BURGOS
The aim of the The Technology Transfer Office (TTO) of the Univesidad de Burgos is to promote Innovation technology through the reseach results transfer and the conexions between the University and the new needs and requirements of the society - we are the link between the University and the Industry. Contact person: José Manuel López (jmllopez@ubu.es)

Technology Offers on Innoget are directly posted and managed by its members as well as evaluation of requests for information. Innoget is the trusted open innovation and science network aimed at directly connect industry needs with professionals online.