Summary of the technology
It is known the high toxicity of nitro-explosives, namely TNT, which are easily absorbed by the skin and the intestinal tract. It is also known the presence of this compound in contaminated civil areas arisen from older military installations, or even from terrorist attacks. This causes both health and environmental problems.

In order to meet this need we have developed new colorimetric, simple, rapid and cheap colorimetric sensor for the in situ detection of trace amounts of TNT by non-specialized personnel and by conventional techniques sensors (replacing the commonly known IMS, GC, HPLC).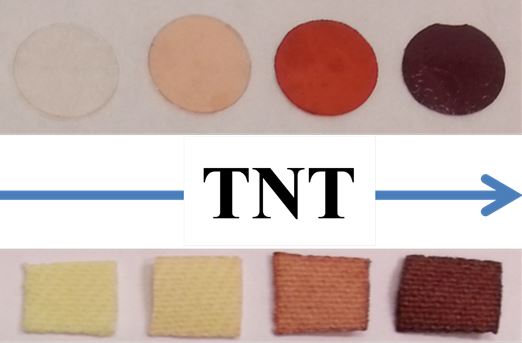 New and innovative aspects
They are solid substrates as sensors that could be easily handle both in the dry and wet state. Moreover, the possibility of conventional fibers coated with polymeric materials such sensors have the advantage of preparing smart fabrics capable of indicating the presence of molecules of interest by colour changes, in the case of chromogenic materials. It would further be advantageous to use sensory aqueous solutions of polymer materials in forensic or detecting contamination in situ, as spray, to use over the area to assess.
Main advantages of its use
Allows for the colorimetric visual detection of traces of TNT by non-specialists, in situ, in real time, and at minimal cost. TNT can be detected directly on surfaces, or measure the concentration in water and wastewater, soils, etc. The quantification of TNT can be carried out by a photograph taken with a digital camera or with a mobile phone.
Specifications
Visual detectors of TNT are new polymeric materials based on sensory monomers.
The polymerization of these monomers allows for the obtention of water soluble linear polymers, films or dense membranes, and smart fibers, by copolymerization of these monomers with others, including polyfunctional monomers, in order to provide polymeric materials with good mechanical properties, both in dry and swollen, which behave as TNT colorimetric sensors in water and / or aqueous media.
Polymeric materials change color when traces of TNT are present. This specific behavior allows for the detection of TNT by changes in the visible color spectrum, so that in addition to using a spectrophotometer, its concentration can also be assessed by the naked eye. Moreover, its quantification can be carried out using the digital parameters (RGB ) of a photograph taken with a camera materials or by smartphone.
Applications
It may be of interest to companies that use this type of explosive. Detection of explosives in terrorist attacks (forensic chemistry). Governments that need to establish the degree of contamination by this compound due to activities such as old milatares facilities, terrorist attacks, former wars, etc.Mining and quarrying. Companies whose area is the manufacture of explosives and weapons.
Companies using TNT for demolition.Environmental management and treatment of contaminated areas.
Intellectual property status
Protected by Patent P201301187
Current development status
In use, test results available
Desired business relationship
Trade Agreement, License Agreement, Technical cooperation: further development, Technical Cooperation: testing of new applications; Technical Cooperation: adaptation to specific needs.
Related keywords
Industrial Technologies
Protecting Man and Environment
Agriculture and Marine Resources
Measurements and Standards
Consumer related
Industrial Products
Other
Medical Health related
Polymer
explosive
environment
Detector
TNT
sensor
About UNIVERSIDAD DE BURGOS
Technology Transfer Office from Spain
UNIVERSIDAD DE BURGOS
The aim of the The Technology Transfer Office (TTO) of the Univesidad de Burgos is to promote Innovation technology through the reseach results transfer and the conexions between the University and the new needs and requirements of the society - we are the link between the University and the Industry. Contact person: José Manuel López (jmllopez@ubu.es)

Technology Offers on Innoget are directly posted and managed by its members as well as evaluation of requests for information. Innoget is the trusted open innovation and science network aimed at directly connect industry needs with professionals online.