Desired outcome
Baltimore Aircoil Company (BAC) seeks to identify materials and technologies that can deliver sound attenuation to their industrial heat rejection equipment. Primary focus is to attenuate/cancel noise from three main characteristics of this equipment: water movement (e.g. spraying, splashing…), air movement, and rotating mechanical components (e.g. fan, motor, belts, bearings…). These materials/technologies could greatly enhance the adoption of our products, especially in densely populated area where sound level restrictions hinder the deployment of BAC's highly energy and water efficient heat rejection solutions.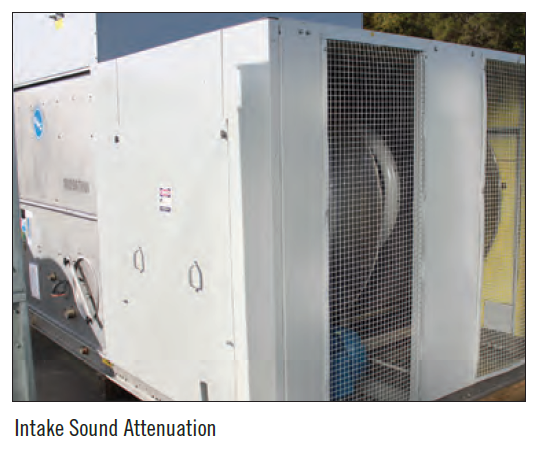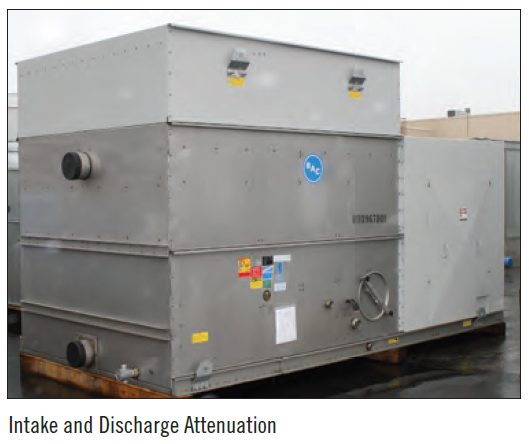 Specifically, we are seeking technologies that can provide increased functionality in a few key areas:
1. Airflow performance
Existing sound attenuation usually increases measurably resistance to airflow of heat rejection equipment, as it typically obstructs the path of the air entering and/or exiting the equipment: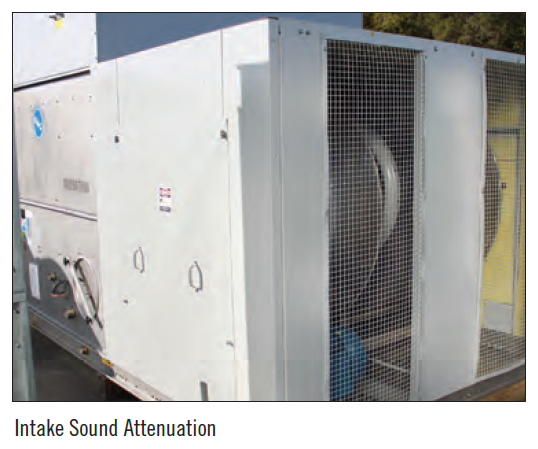 With increasing focus on fan and motor energy efficiency and power consumption requirements of industrial cooling equipment, BAC is interested in new materials and technology that enable similar or better sound attenuation than current technology, with significant reduction in airside pressure drop increase compared to existing sound attenuation technologies and products.
2. Weight/volume reduction
Existing sound attenuation options are voluminous and usually added the existing base products, leading to significant increase in overall weight and volume: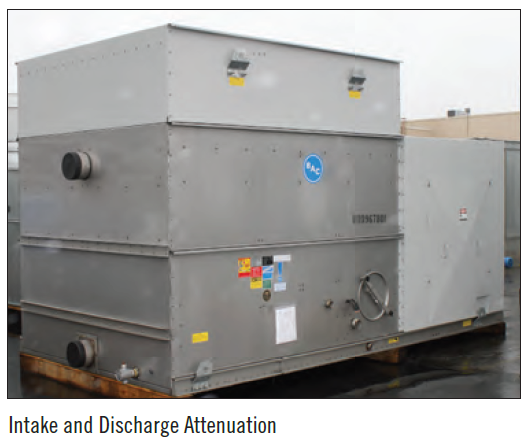 BAC is interested in new materials and technologies that enable similar or better sound attenuation than current technology, with significant reduction in weight and volume compared to existing sound attenuation.
Proposed materials/technologies could either be external add-ons to our equipment, similar to current sound attenuation products, or preferably be integrable to baseline product construction (e.g. coatings or alternative materials of constructions, louvers and/or fan guard replacement…). Additionally, both passive and active (i.e. powered) solutions will be considered.
Please note: all proposed technologies must have advanced beyond the conceptual stage.
Key Success Criteria
All proposed technologies will be evaluated on their potential to positively impact one or more of the following characteristics:
Resistance to airflow
Weight
Volume
Durability – Technologies should be able to performance reliably and long-term (20+years) in harsh outdoor environments heat rejection equipment operates in.
Recyclability / Environmental Impact
Ease of production
Cost
Innovativeness
Please present information regarding how your proposed technology can meet one or more of the above criteria.
Preferred Collaboration types
To Be Negotiated
Related keywords
Materials Technology
Industrial Technologies
Apparatus Engineering
Sound Engineering/Technology
Cooling technologies
Energy efficiency
Protecting Man and Environment
Environment
Environmental Engineering / Technology
Noise Pollution
Clean Production / Green Technologies
Social and Economics concerns
Industrial Products
Industrial Automation
Industrial Equipment and Machinery
hvac
About Baltimore Aircoil Company
Mid-Market Company from United States
Baltimore Aircoil Company
With over 80 years of industry-leading innovation and experience, Baltimore Aircoil Company (BAC) creates cutting-edge cooling equipment for the HVAC, Industrial, and Refrigeration marketplaces. We solve customers' unique needs with our expertise and wide range of high performance systems. BAC leverages the power of evaporative cooling by optimizing the balance of water and energy, but the true BAC difference lies in our absolute commitment to creating sustainable solutions and delivering value to our customers.

BAC's product offerings include Cooling Towers, Closed Circuit Cooling Towers, Hybrid Products, Evaporative Condensers, and Ice Thermal Storage Systems.
Technology Calls on Innoget are directly posted and managed by its members as well as evaluation of proposals.
Innoget is the trusted open innovation and science network aimed at directly connect industry needs with professionals online.
FAQs
The average response rate for this user is 2 weeks
The posting company will directly contact you to open up discussions about your proposal and collaboration opportunities.
You will also be notified and receive feedback from the posting company. You can always transform your proposal into a Technology Offer and post it to other members at no cost.