Desired outcome
PepsiCo seeks innovative suppliers for pallet boards suitable for use in its production and warehousing efforts.

PepsiCo currently uses pallet boards made of Oriented Strand Boards (OSB) when warehousing products and goods in its facilities. Many of these pallets are currently made of 7/8" thick 9-11 ply fir or hardwood CC grade veneer core plywood and, while widely used in multiple PepsiCo production facilities, are susceptible to damage from other equipment including chains, brackets and forklifts (see images attached for examples of damaged pallet boards).

At present, a single pallet board has an average functional life span of 3-6 months.

To improve operations and reduce waste from damaged pallet boards, PepsiCo is interested in a composite pallet board. While the board can still be OSB, composite boards with other materials (such as plastics or aluminum, could be added for increased strength and resiliency) are of primary interest as long as there is no negative impact on recyclability.

While PepsiCo is primarily interested in pallet board technologies that are commercially available, earlier stage technologies are of interest, provided viable development pathways exist.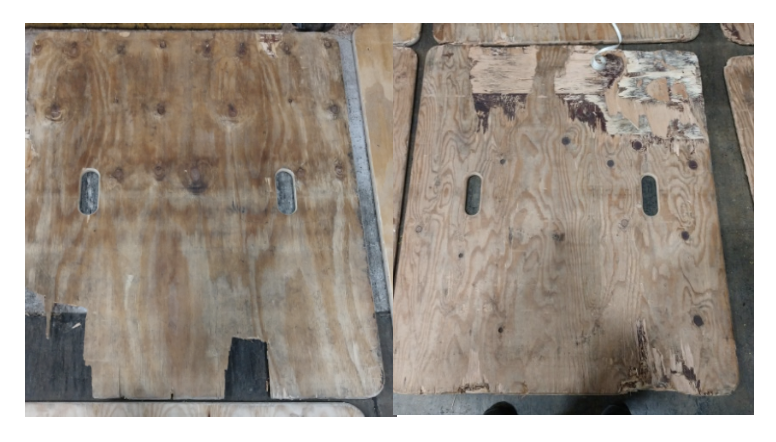 Key success Criteria
Physical Parameters:
Long dimension:

49 ¾ inches minimum
50 inches maximum

Short dimension:

41 ¾ inches minimum
42 inches maximum

Board Height – ¾" inches maximum
Corners: ½ inch rounded profile
Weight: 40-60 pounds
Handholds may be present (see attached schematic for placement)
Material Parameters:
100% wood ORcomposite of wood and other material(s)

Woods: any suitable for this application
Composite materials: aluminum or plastics

Post-usage: board must be recyclable
Must-Have Performance:
Suitable for transfer by suction cups
Resistant to damage/failure along board edge and along areas in contact with transfer equipment (i.e. chains, brackets or forklifts)

Achieved by material and/or design changes

Durability greater than current pallet boards: minimum 4 years
Manufactured as per ANSI/APA standards – APA Voluntary Production Standard PS1
APA Rated Sheathing Structural I
Support loads of up to 2,500 pounds.
Nice-to-Have Performance:
Durability equal to or greater than 100 life cycles
Weight
Nothing moveable or bolted on the board
Possible Approaches
PepsiCo is open to all pallet board technologies capable of meeting the desired performance criteria noted above.
Approaches not of Interest
Medium Density Fiber boards
Boards that cannot support intended weight
Boards that cannot meet desired operational life span
Boards that cannot be recycled post-usage
Related keywords
Applications for Transport and Logistics
Industrial manufacturing, Material and Transport Technologies
Process control and logistics
Packaging / Handling
Logistics
Industrial Technologies
Process Plant Engineering
Protecting Man and Environment
Safety
Environment
Environmental Engineering / Technology
Life Cycle Assessment
Industrial Products
Industrial Equipment and Machinery
Other industrial equipment and machinery
pallet
pallet board
warehousing
About PepsiCo
Large Enterprise from United States
PepsiCo
PepsiCo is one of the world's leading food and beverage companies with a collection of global brands including Pepsi and Quaker, Gatorade and Tropicana, Frito-Lay and beyond. Our broad range of more than 3,000 delicious products offer consumers convenient, nutritious and affordable options in more than 200 countries and territories around the world. We generated more than $64 billion in net revenue in 2018, driven by a complementary food and beverage portfolio that includes 22 brands that generate more than $1 billion each in estimated annual retail sales.

PepsiCo Technology Ventures is an upstream, externally facing, department within PepsiCo R&D. We actively scout for, identify and develop strategic partnerships with external collaborators. Our goal is to locate key external insights, business models and technical unlocks and new capabilities that, when partnered with PepsiCo's robust internal R&D expertise, will yield disruptive innovation in our core products and/or new and emerging products. We are currently exploring novel technology spaces that can dramatically impact our portfolio of foods and beverages. We are interested in improving all facets of our supply chain—from raw material inputs all the way to the consumer consumption—and identifying global efficiencies in areas including crop science, ingredients, processing, packaging, equipment, distribution/fleet, retail and e-commerce. We are also committed to sustainability for our planet and our communities.
Technology Calls on Innoget are directly posted and managed by its members as well as evaluation of proposals.
Innoget is the trusted open innovation and science network aimed at directly connect industry needs with professionals online.
FAQs
The average response rate for this user is 1 week
The posting company will directly contact you to open up discussions about your proposal and collaboration opportunities.
You will also be notified and receive feedback from the posting company. You can always transform your proposal into a Technology Offer and post it to other members at no cost.