Summary of the technology
IMDEA Water labs joined the Laboratory and Infrastructure Network of the Community of Madrid in 2009, with reference number 267. The labs perform several physico-chemical, microbiological and chromatographic analyses associated with quality control of water bodies and soils.
The IMDEA laboratories are currently engaged in the application process for formal acknowledgement of technical competence as a laboratory for water analysis by ENAC (National Accreditation Entity) accreditation, to ensure confidence in test results: Accreditation ISO 17025 EN.
For the determination of the following parameters: pH, conductivity, suspended solids, DQO, DBO5, total phosphorus and TKN (Total Kjeldahl Nitrogen).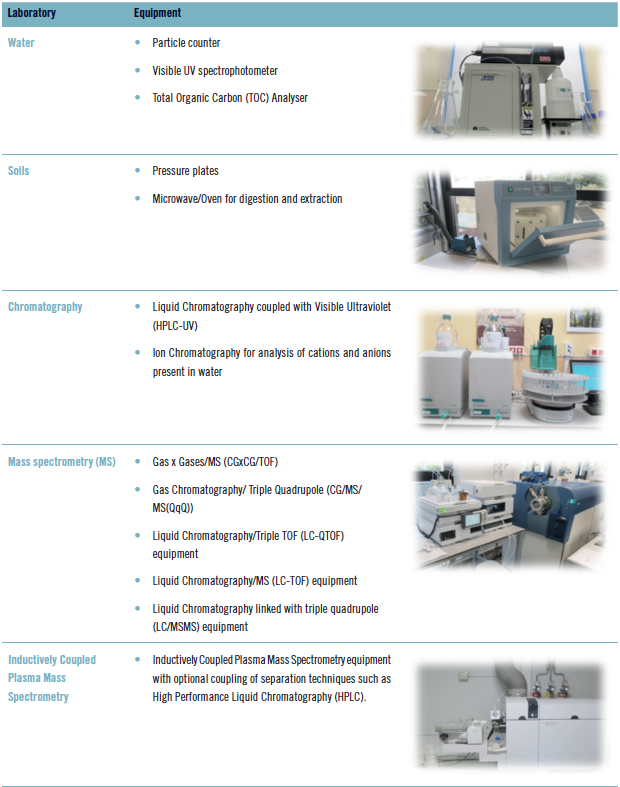 Description of the technology
IMDEA WATER SOLUTIONS
The laboratory facilities are equipped with different types of analytical instrumentation to enable several different types of analysis:
Analysis of physico-chemical parameters for controlling water quality (pH, conductivity, DBO5, DQO, organic matter, alkalinity, anions and cations...)
Analysis of organic acids, such as: succinic, acetic, fumaric, lactic and malic acid in treated waters by high-performance liquid chromatography coupled with visible UV detection (HPLC-UV)
Analysis of microcystins in different water matrices and 1,4 dioxane in reservoir waters using LC/MSMS technique.
Analysis of trihalomethanes (THMs) in drinking water by GC/MSMS.
Analysing metals and other elements present in samples of surface water and wastewater by ICP-MS.
Analysis of priority substances in the field of water policy based on Directive 2013/39/EU, using LC/MSMS y CG/MSMS techniques.
Screening for approximately 400 emerging contaminant compounds (drug residues, disinfectants, pesticides, PFOs, etc.) in inland water bodies and wastewaters, using high-resolution LC-QTOF and CGxCG-TOF techniques.
Soil analysis (moisture, texture, exchangeable bases, metals,…).
Microbiological water analysis for E. coli, total coliforms, etc.
EQUIPMENT
The laboratories are in a constant process of adaptation to internal and external needs, to provide a response to requests from researchers and clients and furnish them with reliable results in terms of soil and water analyses.
The facilities are composed of specific units for (Figure 1):
Water
Soils
Chromatography
Mass spectrometry (MS)
Inductively Coupled Plasma Mass Spectrometry
IMPLEMENTATION SECTOR
Chemical industry
Environment
Agri-food sector
Environmental health
All kinds of entities needing quality control in waters, soils…
Related keywords
Chromatographs and related laboratory equipment (including spectrometers)
screening
water
soils
physico-chemical parameters
About IMDEA Water Institute
Research & Technology Organization from Spain
IMDEA Water Institute
IMDEA Water, a research Institute focused on water management issues, is directed towards optimizing public and private decision-making processes, emphasizing on the link between water, public services, the economy and institutions. The scientific program of the Institute is based on the development of strategic lines for the integrated water management: management of sustainable bodies of water, quality pollution, water treatment and reuse and economic and institutional analysis.
The institute is equipped with high-level up-to-date specialized laboratories as: water, soils, geomatic, ecotoxicology and water biology labs, and pilot plants (mesocosms, microbial electrochemical technologies, land application systems and membranes technologies) for conducting the research activities.
Technology Offers on Innoget are directly posted and managed by its members as well as evaluation of requests for information. Innoget is the trusted open innovation and science network aimed at directly connect industry needs with professionals online.