Seeking solutions for Turf Heat Reduction without the use of water
Anonymous Organization

From United States
Responsive
Project Size Range :

50,000 - 250,000 €

Deadline at

21/07/2022
Desired outcome
Turf systems can reach temperatures in the summer of 160*F or greater in the summer. Desired outcome is to have an infill system or coating developed that will efficiently reduce the surface temperature of artificial turf 15-20*F (10*C) without the need to apply or use water.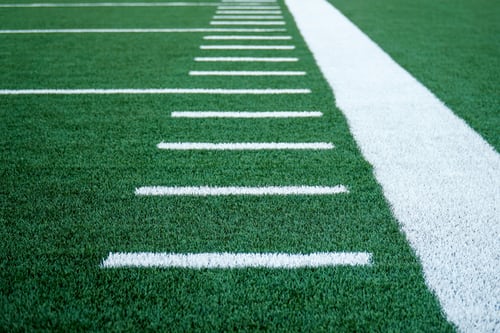 Background information
Infill is the portion of a synthetic turf system specifically on the sports and athletic fields, used to create an impact and safety layer on the field.
Infill is made up of layers of sand, rubber, and other synthetic and natural materials to build up between the fibers to allow both athletic play and increased safety upon impact.
Usage rate of current products ranges from 0.5lbs – 0.75lbs per sqft. The average field size is between 90,000-110,000 sqft.
Particle Size distribution of current systems test between sieve mesh #8-100 with majority of the infill falling between #8-30 sieve mesh.
Below is a graph showing a typical difference in temperature rise of a natural rubber crumb turf system vs a current heat reducing infill system.
Requirements
Need to have an infill or coating able to reduce the surface temperature of an infilled turf system by 20* F (10*C).
Needs to be a ready to use and available in enough quantities to meet current installation demands.
Turf systems can reach temperatures on the surface of 160*F plus on hot sunny days.
A new system to be developed should not impact performance of the turf system.
Nice to have
The desired system will also need to be cost effective for a minimum impact on cost per sqft, current systems available in the market have a cost of $0.40-$0.65 per sqft.
Solutions need to be able to be used or applied to current turf systems.
Solutions should not require daily coatings or soaking in water to maintain a cooling affect.
A system with sustainability or biobased material
Material should be ready for use and available.
Possible Solution Areas
Examples of current infills used in the turf market, Sand, Rubber crumb, EPDM, Olive pits, coconut core, cork, walnut shells, modified wood chips, and lava rocks.
Similar performance infills, are currently used at 6-8 million lbs of infill per year.
If needed the product could be co-developed between us and partners.
Related Keywords
Industrial manufacturing, Material and Transport Technologies
Coatings
Surface treatment (painting, galvano, polishing, CVD, PVD)
Materials Technology
Chemical Technology and Engineering
Cooling technologies
Biobased high-performance materials
Protecting Man and Environment
Water Resources Management
Sustainability
Industrial Products
synthetic turf
heat reduction
About Us
Manufacturer of artificial turf in the sports construction industry. As an industry-leader, we're actively investing in innovation and product improvement to deliver value for our clients. We specialize in a variety of sports applications and offer a comprehensive portfolio of solutions.
About Innovation Needs
Innovation Needs on Innoget are directly posted and managed by its members as well as evaluation of proposals. Innoget is the trusted open innovation and science network aimed at directly connect industry needs with professionals online.