Seeking a smart device for remote measurement and control of delivery of gas from pressurized cylinders
Anonymous Organization

From European Union
Responsive
Project Size Range :

50,000 - 250,000 €
Desired outcome
We are seeking a smart device for remote measurement and control of delivery of gas from pressurised cylinders based on information linked to purchased quantity of gas.

The desired outcome is to source, in sufficient quantities, a ready-to-market smart metering device for gas cylinders with connectivity features that would enable remote payments and control of the gas dispensed. Pricing levels should be below 20 USD/unit in the long run ideally and after successful pilot results. Current market offers contemplate pricey (50 USD/unit) and elaborate solutions for the needs.

Technology Readiness Levels should be between 7-8.

Current estimates for a pilot project are about 5-6.000 devices that at full scale can ramp up to 50k with price targets becoming attractive and the solution becoming technically viable and competitive.

The more attractive the price levels achieved then more than 50k devices can be considered.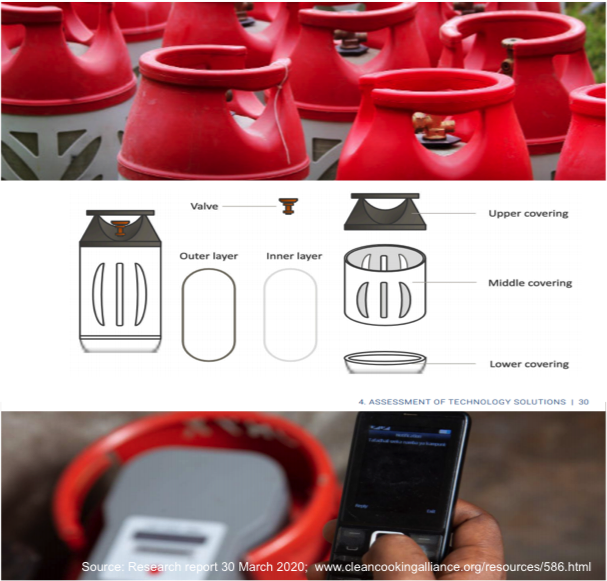 Details of the Innovation Need
Overview
Gas containers are known, such as for example liquefied petroleum gas (LPG) cylinders, or for other similar combustible gas for domestic or industrial use, to have a gas capacity comprised between 6 kg and 25 kg.
The use of gas containers, especially in developing countries, is known in the form of cylinders, which can be located into use by users towards domestic heating and/or cooking units. However, the adoption of such gas containers remains relatively low as residents of in those areas either use other fuels for cooking and/or heating their houses (for example wood and/or charcoal and other similar low-efficiency fuels.)
At the same time those gas containing pressurized cylinders pose a series of risks related to how gas is acquired, handled and delivered, which making gas in cylinders an expensive, dangerous energy source that can also be easily be tampered with by unauthorized persons.
Those risks can be grouped into:
Safety Risks – Gas explosion/leakage and contamination
Security Risks - Thefts and illegal refueling.
Delivery Risks - Gas delivery infrastructures employing standard gas measurers in Europe and North America, cannot be used in many developing countries due to the lack of suitable infrastructures, security against thefts and tampering, and high costs of installation)
Business risks - The main obstacle for the widespread adoption of gas cylinders in developing countries is the high initial cost of investment for the equipment i.e. end-user has to pay in advance for the cost of the whole quantity of gas contained in the container, even if the total quantity of gas is used over a long period of time. This makes the use of gas from such containers harder to purchase.
Solution Detail
In order to overcome those risks, we are currently looking for a smart device that would enable the increased use of gas cylinders in the developing world taking advantage of the recent developments in telematics, sensors and wireless data transmission technologies accompanied by an innovative market approach. End users instead of acquiring the gas cylinder and its contents, would acquire a pay-as-you-go based service paying only for the effective use of gas paying only an upfront deposit to have a access to a gas cylinder equipped with a "smart" device. The end-user will be able to purchase via his smartphone either the quantity or the value of gas as needed and then the smart device will receive this information remotely and will activate the flow valves to allow dispensing of the quantity of gas purchased. After this quantity is delivered the flow valves will automatically close, activated remotely and then the user would need to proceed to a payment for further gas use and dispensing. As gas from the cylinder is being consumed user will receive alerts on reduced levels and such information will also be transmitted to local distribution agency to provide a full gas cylinder shortly. Proposed solution needs to be compatible with the countries network and remote payment systems infrastructure.
Attached document provides an example and ideas of the technology employed behind the solution required.
What we offer
Access to market: The product will be piloted in one of the developing countries we are currently active.
Scalability: Based on the results such solution could be replicated to other countries creating economies of scale.
Growth opportunities:Providing access to business and innovation mentors.
Technology transfer: Co-development, licensing and any other technology transfer options are available for discussion
Requirements
Such device will need to have the following features: - ATEX compliant. - Gas flow measurement. - Gas volume measurement and associated low level alert feature. - Fraud/unauthorised use protection and associated unauthorised access alert feature. - Telemetry. - Device identification and associated remote payment system/infrastructure. - Data transmission and GSM compatibility preferable. - Compact size and easy to install/uninstall on the top side of a standard 6kg and 25kg gas cylinder. - Integration with mobile payment platforms
Possible solution areas
Examples used by Kopagas, PAYGO Energy, Envirofit can be used as guidance.
You can also review https://www.ijert.org/smart-lpg-monitoring-and-automatic-booking-system-using-iot
Related Keywords
IT and Telematics Applications
Electronic Commerce, Electronic Payment
Applications for Health
Internet of Things
Applications for Transport and Logistics
IT and Telematics Applications
GIS Geographical Information Systems
Applications for Health
Operation Planning and Scheduler System
Applications for Transport and Logistics
Mobile Communications
GIS Geographical Information Systems
Supply chain
Operation Planning and Scheduler System
Materials Handling Technology (solids, fluids, gases)
Mobile Communications
Transport and storage of gas and liquid fuels
Supply chain
Sensors & Wireless products
Materials Handling Technology (solids, fluids, gases)
Sensor Technology related to measurements
Transport and storage of gas and liquid fuels
Sensors & Wireless products
Sensor Technology related to measurements
Gas transmission and distribution
Data I/O devices
Other measuring devices (including ifrared gas analysers, moisture analysers)
Gas transmission and distribution
gas cylinder
About Us
A global integrated energy provider with assets on the oil & gas, electricity and renewables sectors and a strong R&D and Innovation track record over the past 10 years.
About Innovation Needs
Innovation Needs on Innoget are directly posted and managed by its members as well as evaluation of proposals. Innoget is the trusted open innovation and science network aimed at directly connect industry needs with professionals online.