Desired outcome
LifeArc has made available an initial £10M for the identification of therapeutics that can be rapidly deployed to treat COVID-19. The aim is to run trials in patients during the current epidemic. It is anticipated that applications will be for funding to repurpose one or more drugs that are generic, already licensed, or are in late stage development for another indication.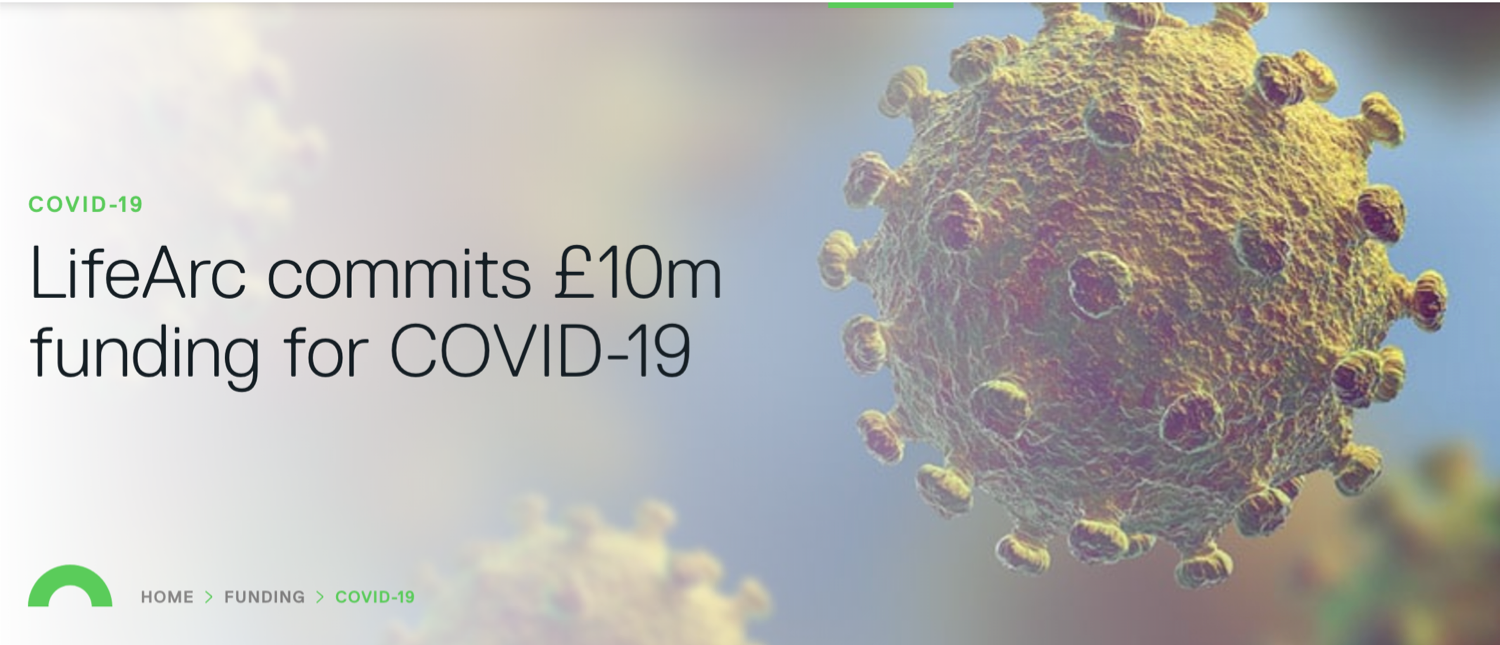 Details of the Technology Call
COVID-19 now represents a global emergency. Development and testing of a vaccine will take at least a year and it may be two years before there is good protection across the most vulnerable groups. There is a clear need for new treatments that will reduce the mortality rate while we wait for a vaccine.
Development of novel molecules is not thought to be realistic in the timeframe needed to impact upon this pandemic, so the focus for this call is on repurposing already available drugs (including biologics) or those in late stages of development.
The call
LifeArc is calling for applications from academics, NHS employees or companies that have therapeutics that could be repurposed or repositioned for use in COVID-19 patients. The primary purpose is to accelerate availability of treatments for patients and it is therefore expected that applicants will already have material available for testing and a plan for rapid scale up of clinical material. Priority will be given to projects that have a clear path and availability for patients in a 6-12 month timeframe.
Plans for the structure of the clinical trials should be in advanced stages of development and should follow the specialist guidance from the regulators on COVID-19 trials.
The expectation is that the data obtained will be shared openly and, where knowledge obtained could benefit the development of other COVID-19 therapeutics, this should be done as quickly as is reasonably possible.
Related keywords
Biological Sciences
Medicine, Human Health
Virus, Virology / Antibiotics / Bacteriology
Human vaccines
Biology / Biotechnology
Medical Health related
Diagnostic
Therapeutic
Anatomy, Pathology, Immunology, Physiology
Electromedical and medical equipment
Welfare technologies
infections
coronavirus
covid19
About Covid-19 Innovation Challenges by Innoget
Innovation Intermediary from United Kingdom
Covid-19 Innovation Challenges by Innoget
Ahead of the current Coronavirus outbreak, Innoget is fully committed to contributing to mobilizing scientific and expert communities to find a real solution to the Covid-19 pandemic. Therefore, we're supporting worldwide calls and programs that could help in any aspects of the coronavirus crisis.

Is your organization promoting or looking for innovation or research initiatives to mitigate the Covid-19 outbreak? Email us at covid19@innoget.com to list them.

Channeled through Innoget's online open innovation network, initiatives in the health, virology, medicine, or novel technologies applied to human health, among others, are listed and disseminated to Innoget members -ranging from hospitals, research institutes, scientists, businesses, and public administrations- and innovation partners worldwide.
Technology Calls on Innoget are directly posted and managed by its members as well as evaluation of proposals.
Innoget is the trusted open innovation and science network aimed at directly connect industry needs with professionals online.
FAQs
The average response rate for this user is 1 week
The posting company will directly contact you to open up discussions about your proposal and collaboration opportunities.
You will also be notified and receive feedback from the posting company. You can always transform your proposal into a Technology Offer and post it to other members at no cost.