Desired outcome
AireHealth is ready to enter the ring and help where we can in support of our national effort to stem the impacts of the novel CoronaVirus. We'd like to see our FDA cleared nebulizer make an impact, particularly for the patients we already serve - those with chronic respiratory conditions such as asthma and COPD. We're enhancing our production and distribution strategies to include delivery of COVIDCare Kits that package a 7-day disposable supply for our nebulizer. We are also working on a retooled version of our AireHealth mobile app to track COVID-19 symptoms and communicate status to caregivers and physicians as required.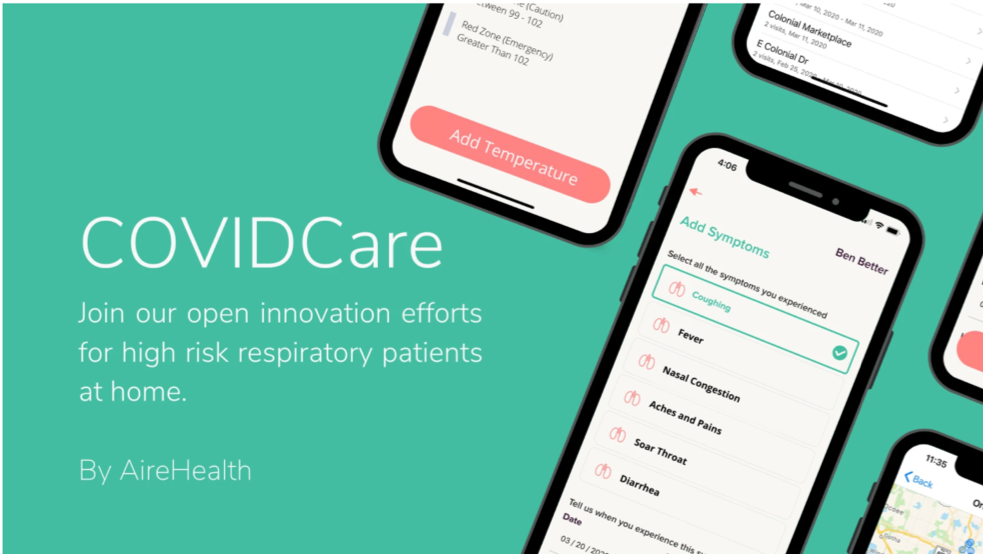 Details of the Technology Call
We'd like your help and have an open call for innovators and collaborators big and small. Please contact us atcovidcare@aire.health if you are interested in discussing one of the following areas of potential impact:
Companies with cleared, exempt and fast-tracked respiratory device peripherals and sensors—P

artner with AireHealth to remotely monitor health status and deliver prescribed drug therapy for high risk respiratory patients at home by connecting your solutions to the AireHealth COVIDCare App.

Drug makers and pharmacies—C

ollaborate with AireHealth to enhance COVID home care with known and novel respiratory drug delivery via our nebulizer (commonly used respiratory medications, COVID specific drugs, biologics).

Virtual Care, Device Integrators and Telehealth platforms—

Integrate our AireHealth nebulizer and/or AireHealth COVIDCare App into your existing platform.

Those in distribution—P

artner to create a robust distribution channel with retail pharmacies, big box stores and online distributors with national reach, to get the AireHealth COVIDCare solution out where it's needed most.

Coordinators—

You are involved in sourcing and coordinating companies that want to make a difference in this unprecedented time of action.
Two guidelines for anyone interested in collaborating: 1) you have to be able to fund and staff your company's contributions to the effort as well as your solution and 2) capabilities must follow a rapid deployment model. Think in solution sets that are 3 months or less to implement and come to the table with an open innovation approach.
Bring your superstars, your doers to the table - we will bring ours. We'd love to hear from you and we've set aside some time to chat with those of you also leaning in to help where we can – book your time here:https://x.ai/calendar/airehealth-covidcare/partners
Related keywords
Applications for Health
Visualisation, Virtual Reality
Biological Sciences
Medicine, Human Health
Clinical Research, Trials
Pharmaceutical Products / Drugs
Human vaccines
E-Health
Genetic Engineering / Molecular Biology
Medical Health related
Drug delivery and other equipment (including kidney dialysis machines)
Hospital and other institutional management (including management services and leasing)
Anatomy, Pathology, Immunology, Physiology
Environmental Medicine, Social Medicine,Sports Medicine
Electromedical and medical equipment
coronavirus
covid19
About Covid-19 Innovation Challenges by Innoget
Innovation Intermediary from United Kingdom
Covid-19 Innovation Challenges by Innoget
Ahead of the current Coronavirus outbreak, Innoget is fully committed to contributing to mobilizing scientific and expert communities to find a real solution to the Covid-19 pandemic. Therefore, we're supporting worldwide calls and programs that could help in any aspects of the coronavirus crisis.

Is your organization promoting or looking for innovation or research initiatives to mitigate the Covid-19 outbreak? Email us at covid19@innoget.com to list them.

Channeled through Innoget's online open innovation network, initiatives in the health, virology, medicine, or novel technologies applied to human health, among others, are listed and disseminated to Innoget members -ranging from hospitals, research institutes, scientists, businesses, and public administrations- and innovation partners worldwide.
Technology Calls on Innoget are directly posted and managed by its members as well as evaluation of proposals.
Innoget is the trusted open innovation and science network aimed at directly connect industry needs with professionals online.
FAQs
The average response rate for this user is 1 week
The posting company will directly contact you to open up discussions about your proposal and collaboration opportunities.
You will also be notified and receive feedback from the posting company. You can always transform your proposal into a Technology Offer and post it to other members at no cost.