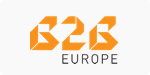 B2BEUROPE is a cutting-edge conference production company located in the heart of Amsterdam, The Netherlands.
Our multicultural team has a global mind-set, and we are experts in business intelligence and hard-core industry research which brings everyday a great success to our clients from all over the world.
We are specialists in qualifying most influential speakers, producing a value driven agenda, carrying out logistics and hosting conferences that are breading ground for new ideas to transform the world.
We are a Change maker.
Return to the partners index
View Partner Website