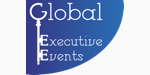 Global Executive Events is a leading provider of high quality exclusive conferences and empowering tailor-made corporate events. Global Executive Events is a Dutch owned company that values excellent service, enthusiastic staff and extraordinary programs.
Our company builds long term partnerships with the most innovative organizations. Our speakers, thought leaders and trend setters will provoke your creativity and progress your professional development. We offer easy registration and exciting apps that connect attendees, speakers, exhibitors, and sponsors. Our staff is highly skilled and dedicated to produce and organize unique and exclusive top senior executive events, think outside the box and offer you innovative ideas. We have excellent networks both nationally and internationally allowing us to produce high quality conferences. Honesty, integrity and an absolute focus on customer service is a must for us. The success of our clients is important and we hope to contribute to that success by promoting their commitment to excellence.
Our mission is to revolutionise the event industry through innovative, exclusive and inspiring conferences and facilitate social networks to extend relationships beyond the event.
Return to the partners index
View Partner Website