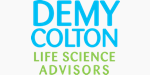 Demy-Colton Life Science Advisors is dedicated to producing highly specialized and targeted investor and business conferences exclusively for the biotechnology and life sciences industry. Demy-Colton has deep domain knowledge and a proven track record of designing and developing high-value added programs that meet and exceed the expectations of our participants.
 Since its inception in 2009, Demy-Colton has co-founded the Biotech Showcase™, an investor conference that features 240 public and private presenting companies; it has been instrumental in re-launching the Life Sciences Summit™ an event dedicated to funding and partnering emerging biotech companies and innovations; and, it has expanded the US-Japan Health Sciences Dialogue™ into a global meeting focused on transpacific business development and investment.
Demy-Colton also offers partnering services through Demy-Colton Partnering, a highly intuitive online partnering and meeting management system.
Return to the partners index
View Partner Website