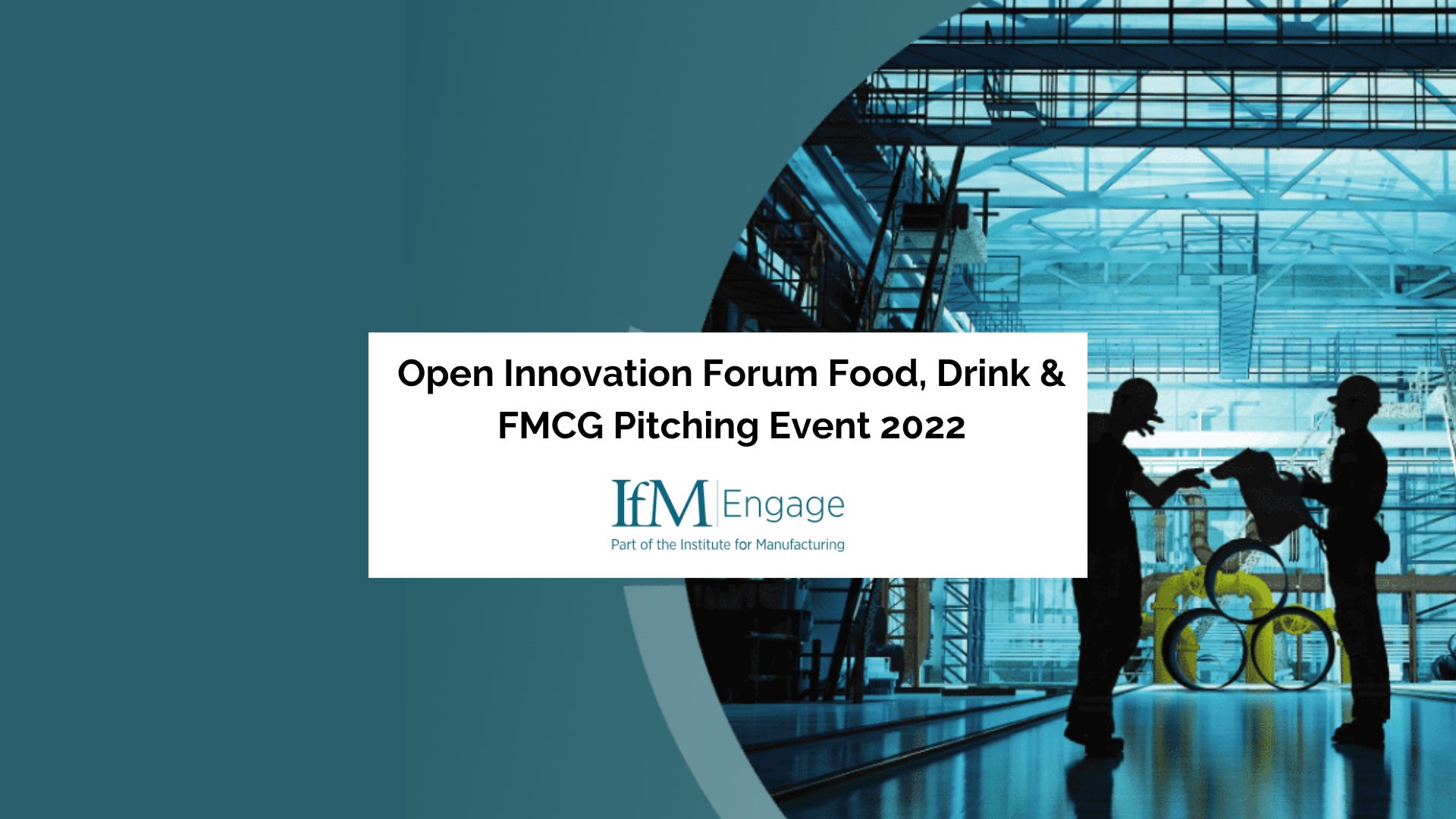 Open Innovation Forum Food, Drink & FMCG Pitching Event 2022

Event organized by IFM - Institute for Manufacturing
01 December, 2022 - 01 December, 2022
Online
Open Innovation Events Event
Event description
Senior leaders from major Food, Drink and FMCG firms such as Mars, PepsiCo, Diageo, Suntory, Muller, Cargill, Boots, Twinings, Yili, Nomad and Kerry are holding a pitching event for innovative companies, entrepreneurs, start-ups and university spin-offs. These companies, who are members of the University of Cambridge IfM's Open Innovation (OI) Forum, are seeking new solutions to their business challenges, so you have the chance to pitch to them at an event on the afternoon of Thursday 1 December 2022 (pitches will be delivered online).
The 11th Food, Drink & FMCG Open Innovation Pitching Event is open to all individuals, research organisations and companies of all sizes and levels of maturity. Up to 20 entrepreneurs, start-ups, researchers, innovators and technology developers will be picked to pitch their ideas to a panel of key decision-makers and 'innovation scouts' from important food, Drink and FMCG firms (see full list here).
This year's Pitching Event will focus on solutions to four of the UN's Sustainable Development Goals which the OI Forum members have identified as having the greatest relevance to the Food, Drink and FMCG sectors:
Zero Hunger
Good Health and Wellbeing
Responsible Consumption and Production
Climate Action
The event is being held as part of an OI Forum event hosted by Biffa plc at its PET recycling facility at Seaham, and as such, there will be a particular emphasis on 'Innovation Needs' related to Sustainable Packaging, including:
Recycling solutions for packaging materials
Packaging elimination and new fulfilment / business models
Bio / sustainably sourced packaging materials
Closed-loop / reusable packaging
Compostable packaging
Encouraging consumer recycling behaviours (design, usage behaviour, education…)
Digital / AI solutions to support sustainability and the circular economy.
In delivering the broader ambition of the UN's SDGs, the Forum members have identified the following further 'Innovation Needs' as critical for success:
Valorising co-products and side-streams
Plant-based ingredients and alternative proteins
Resource-efficient manufacturing processes & automation
Microbiome & gut health
Reducing food waste
Functional nutrition & wellbeing for physical and mental health
Shelf-life extension & decontamination
Natural / clean label ingredients
Supply chain tracking & traceability
Consumer information, education & behaviour change
Sugar, salt, fat etc reduction
Healthy, sustainable enjoyment
Testing & validation
Topics

Agrofood industry
Industrial manufacturing and materials transport