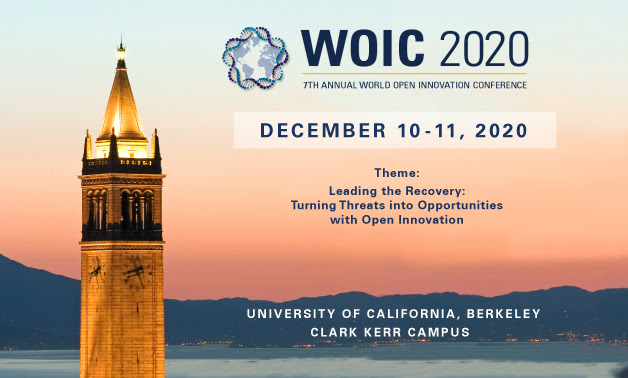 Event description
The coronavirus (Covid-19) pandemic is having a profound impact on economic and social life throughout much of the world. How should innovators adapt to the so-called "new normal" and lead their organizations towards recovery? In this year's edition of the World Open Innovation Conference (WOIC), we will focus on the knowledge and tools from open innovation that help innovators overcome threats, and identify new opportunities for growth and recovery.
If the development of the pandemic permits, the conference will be hosted by the University of California, Berkeley, Berkeley, California, USA. In the unfortunate situation that safe co-location during the conference will not be possible, we are preparing to take WOIC 2020 fully online or offer a blended conference experience, allowing for both physical and digital participation. We are currently monitoring the situation, and have put a digital taskforce in place that will keep you informed about any developments and decisions regarding the location and formats of the conference. In the meantime, we are looking forward to receiving your submissions.
Conference Theme
In light of the current pandemic, we have decided to adapt this year's conference theme. WOIC 2020 will focus on discussing how innovators can meet the challenges of our times by: "Leading the recovery: Turning threats into opportunities with open innovation".
Open innovation describes "a distributed innovation process based on purposively managed knowledge flows across organizational boundaries" (Chesbrough & Bogers, 2014: 17). It provides insights into how firms can harness inflows and outflows of knowledge to improve their innovation success (e.g., Chesbrough, 2003, 2019; Bagherzadeh et al., 2019a; Laursen & Salter, 2006; Zobel, 2017). Recent research has also highlighted how open innovation can be harnessed to address grand challenges (Bogers et al., 2020) and generate social impact (Kohler & Chesbrough, 2019). Several developments throughout the pandemic have already highlighted the crucial role of innovation, openness, and knowledge flows for dealing with the crisis (e.g., Chesbrough, 2020; Wenzel, Stanske, & Lieberman, 2020). Scientists around the world mobilize to collaborate on possible vaccines against the virus. Data and scientific publications are shared more openly to accelerate progress in our combat against Covid-19. Firms are looking for new ways to innovate and collaborate in order to provide essential infrastructure and products, such as masks and ventilators. We believe that many of these examples can provide new insights into our understanding of the underlying processes and value of open innovation, while we also hope that our research on open innovation can provide some insights to address these emerging problems.
As a grand challenge, the Covid-19 crisis is affecting many parts of our lives, and unprecedented coordination and collaboration will be needed to develop comprehensive solutions (George et al., 2016). This will have implications for the management and governance of innovation across private and public stakeholders (Ansell & Gash, 2008). Beyond the innovations related to the direct combat against Covid-19, firms are, more generally, facing various new challenges in their innovation processes. Digital transformation has suddenly become a reality rather than a vision. Despite the financial pressure and economic downturn, firms need to continue to invest in innovation. But how can firms continue to innovate during times of crisis and how might they innovate better, after the crisis has one day passed? What is the role of openness when innovating in times of crisis and how can open innovation support the recovery of organizations and enable new opportunities for growth? We are looking forward to generating and discussing new insights into these timely and pressing questions.
Topics

Agriculture and marine resources
Agrofood industry
Biological sciences
Consumer related
Electronics, IT and Telecomms
Energy
Blockchain
Industrial manufacturing and materials transport
Medical / Health related
Physical and exact sciences
Protecting man and environment
Social and economic concerns
Photonics
Pharmaceuticals
Fintech
Chemicals
Cosmetics, Health and Beauty
Internet of Things
Cyber Security