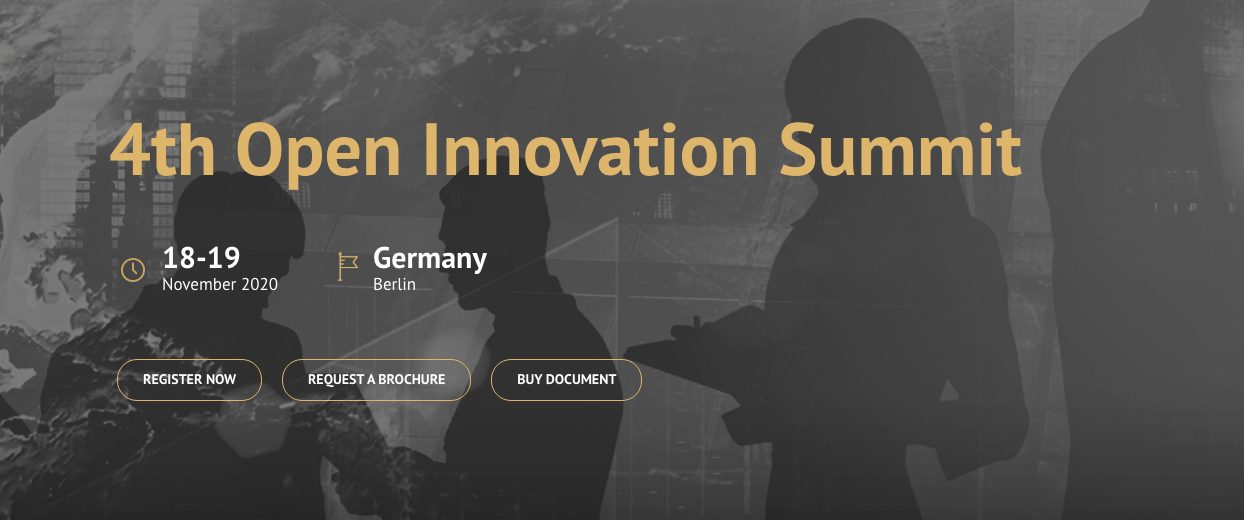 4th Open Innovation Summit

Event organized by Vonlanthen Group
18 - 19 November, 2020
Berin, Germany
Open Innovation Events Event
Event description
Vonlanthen Group of Companies is thrilled to be presenting the 4th Open Innovation Summit in Berlin, on November 18th and 19th, 2020.
This Summit will continue its tradition of providing a cross-functional platform for open innovation leaders to come together and to exchange their practical experiences in adoption of open innovation, applying open innovation to create competitive products, services and processes, to enable novel business models and to network with the key stakeholders.
Join us as we continue exploring the technical and business solutions, and lessons learned in the ongoing debate of open innovation. See you in November 2020!
Who Should Attend
Chief Executives, Directors, Vice Presidents, Department Heads, Leaders and Managers specialising in: Business Planning Corporate Development Innovation Excellence Investments/Startups Operations Management Portfolio Management Project Controlling Quality Management R&D Business R&D Cooperation Strategic Marketing Business Development Financial Planning Innovation Management Knowledge Management Performance Measurement Product Development Project Management Research & Development R&D Controlling R&D Technology Innovation
Key Practical Learning Points of the Summit
Improving idea sourcing, quality, processes, performanceAdopting new tech and tools to mature creation of competitive advantages through open innovationEmpowering developability and deliverability of open innovation solutionsDefining metrics to measure open innovation impactDesigning open innovation platforms from concept to implementation to enable OI ecosystemApplying emerging OI approaches to create novel business models for product, process and servicesEstablishing partnership with internal and external OI communities, and learning from failuresEnhancing intellectual property (IP) strategy to enable and protect innovations
Topics

Agriculture and marine resources
Agrofood industry
Biological sciences
Consumer related
Electronics, IT and Telecomms
Energy
Blockchain
Industrial manufacturing and materials transport
Medical / Health related
Physical and exact sciences
Protecting man and environment
Social and economic concerns
Photonics
Pharmaceuticals
Fintech
Chemicals
Cosmetics, Health and Beauty
Internet of Things
Cyber Security