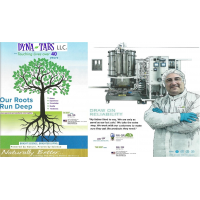 HAROLD BAUM
MANAGING DIRECTOR at DYNATABS, LLC
United States · BROOKLYN
Joined October 2011
Summary
DISTRIBUTION OPPORTUNITY FOR MUTUAL ENRICHMENT! - http://www.dynatabs.com/ http://www.dynatabstv.com/

EN ESPANOL: http://www.dynatabs.com/ST1/index.html http://www.dynatabs.com/FM/



Hello
This would be a great opportunity for both of our companies to cooperate. Please advise your interest.


The Surest Way to get Stronger Sales is to Sell a Stronger Product!
DYNATABS® is a U.S.A. company, that targets THE HEALTH & WELLNESS INDUSTRY OF THE 40% OF THE POPULATION WHO CANNOT SWALLOW PILLS WHICH IS AN EXTREMELY LARGE PRODUCT DEMAND NICHE WORLDWIDE.
DYNATABS® line features varieties of innovative products that are formulated in a variety of tropical and traditional great tasting flavors that dissolve quickly on the tongue so you do not need any water. The rapid delivery of nutritional components from a product small enough to fit in your pocket or purse offers convenient transportability of a supplement that has never been available before, maintaining nutritional compliance.
DYNATABS® perfected Oral Edible Strips increases bio-availability of nutritional herbal remedies that cannot be reproduced or achieved with common capsules or pills,and whose delivery with full efficacy can be achieved in moments by its dissolving on the tongue instantly delivering its full healthy ingredients with a blast of delightful tropical flavor directly into the blood stream, completely bypassing the diluting less absorbing digestive track working with your own body chemistry, without the choking hazzards of bulky pills and capsules or bitter taste often found from liquids:

Melatonin Sleep Support

Digestive Detox

Colon

Antacid Alternative

Energy

Green Tea

Antioxidant

Vitamins C, B6, B12, D3, etc.

Glucose

Carbs

Memory

Cravings

Diet

Libido

Sexual Wellness for males and females; young and old

Melatonin Sleep Support

Stress Support

Aspirin Natural Alternative

Mood Enhancement

Smoking Craves Resist

Anti-Aging Support

Beauty from Within

Menopause Support

Hangover Relief

Beer Enjoyment

and much more!

We welcome contract manufacturing and private label and will assist you in developing OTC and RX products in our technology as we are already doing so.
Nominated as one of the best inventions by Time Magazine.
DYNA DOO® Convenient Hair Gel Styling Strip – ideal for travelers since allowed on board planes, parties. http://www.dynatabs.com/dynadoo.html
SERENITY HOME SPA® Therapeutic Pre-moistened beauty repairing Conduction Facial Masks for that seductive Face minimizing pores, covers unsightly wrinkles – signs of aging without being obvious is the key combining natural minerals in a liquid hydrating foundation : Aloe Vera, Collagen, Anti-Wrinkle, Anti-Acne, Bionic, etc. http://www.dynatabs.com/serenity.html http://www.dynatabs.com/aloevera.html
Anti-Acne, hydrating, shaving repair, Aloe Vera, /Make-Up Removal Conduction Wipes and much more in a unique formulation forming a second skin which is a great delivery system for the product along with a proven merchandising program that no one else was clever to devise just for you. The products serve as a barrier between the skin and elements.Antioxidants,peptides and proven ingredients work together to improve the skin's tone and texture while protecting against free-radical damage, capitalizing on the popularity of back to basics in a tried and true format, avoiding break-out or irritation but enhances beauty, meeting multiple demands of the consumers repairing imperfections. http://www.dynatabs.com/aloevera.html
We are inviting importers, distributors, and sales representatives to join our regimen and team.
We will be glad to send you our products details - The Surest Way to get Stronger Sales is to Sell a Stronger Product!
Contact us TODAY!:
DYNATABS LLC®
email: sales@dynatabs.com
Tel: +1 (718) 376-6084.
Skype: BAUMINTLUS
Thank you and have a healthy day!
Work Experience (1)
MANAGING DIRECTOR
DYNATABS LLC
January 2005 - Present
BROOKLYN
Academic Studies (1)
MBA
FORDHAM UNIVERSITY
January 1985 - January 1987
BUSINESS, MARKETING, PRODUCT DEVELOPMENT
BUSINESS, MARKETING, PRODUCT DEVELOPMENT
Awards and achievements (1)
RETAILER CHOICE DYNATABS ORAL EDIBLE STRIPS
BEST NEW PRODUCT
June 2019
RETAILER CHOICE DYNATABS ORAL EDIBLE STRIPS
Research areas of interest (6)
Applications for Health
Pharmaceutical Products / Drugs
Paediatrics
Other ( Clinical Medicine related )
Toys and electronic games
and 1 more
HAROLD BAUM didn't publish any Technology Call yet
HAROLD BAUM didn't publish any Technology Offer Offer yet
HAROLD BAUM didn't publish any Event yet
HAROLD BAUM didn't publish any Job yet
HAROLD BAUM didn't publish any New and Article yet
HAROLD BAUM didn't publish any Education Resource yet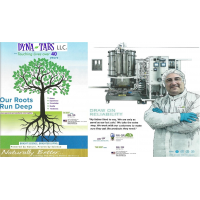 You are signed out
Join Innoget to connect with HAROLD BAUM and thousands
of innovation-driven professionals and organizations