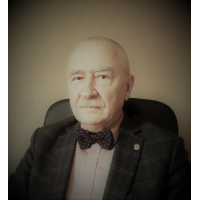 Michael Pletnev
Innovation Consultant at Retired
Russian Federation
2

followers

0

following

0

recommendations
View Michael's full profile. It's free!
Contact Michael, connect with your colleagues and find business opportunities worldwide.
View Michael's Full Profile
Summary
In 80-90th of XX century, Dr. Michael Y. Pletnev had positions in the All-Union R&D Institute of Surface-Active Substances and two private companies as a senior researcher, head of R&D group, branch manager of personal care products and vice-director. The topic of the Doctor's degree (defended in 1995) was recognized by the Russian Higher Certifying Commission as one the most actual in chemical sciences. Dr. Michael Pletnev took part in the development of functional cosmetic ingredients, innovative cosmetics, botanical CO2-extracts, household and industrial products, such as foams for large-scale fire-fighting. In 1996, he was elected as Professor of Chemistry followed by heading the Department of Physical and Organic Chemistry of the Belgorod State University. In 2001, Prof. Michael Y. Pletnev was invited to SÖFW Journal (former Seifen-Öle-Fette-Wachse, VfCI, Augsburg, Germany) as editor-in-chief of the Russian version in Moscow. Personal business in analytics and consultancy was also in the main duties. In May 2009, Prof. Michael Y. Pletnev was invited to head the Department of Colloid Chemistry of the Moscow Lomonosov University of Fine Chemical Technologies, MITHT, that is now a part of the Russian Technological University – MIREA. "Biodiesel and Biobased Chemicals", E-learning course for developing countries, was created in 2011 by contract with ICS-UNIDO. Nowadays, Prof. Pletnev is an underemployed lecturer in surface and colloid chemistry, formulation chemistry, and topical pharmaceutical and cosmetic preparations. Personal care and household products, oleochemistry, formulation chemistry, green products, and specialty chemicals are among the strongest skills and competencies. Market analytics and consultancy, business training, R&D, supervision of graduate students are among his core duties. Prof. Michael Y. Pletnev is a certified Expert of RAS (2016) and member of two academic councils. The list of accomplishments of Prof. Michael Pletnev includes more than 200 scientific and practical publications, 3 monographs, reference book 'Surfactants and Related Products' (2002) and 17 patents. A number of practical accomplishments for Russian and international companies were performed and launched to the market. Details of the accomplishments are available at ORCID and ResearchGate.