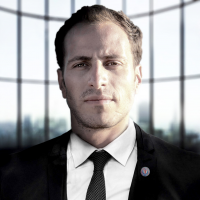 Alejandro De la Parra Solomon
Entrepreneur focused on Health, Education & Technology
Mexico · Mexico City
0

followers

1035

following

0

recommendations
View Alejandro's full profile. It's free!
Contact Alejandro, connect with your colleagues and find business opportunities worldwide.
View Alejandro's Full Profile
Summary


LinkedIn
Facebook
Digital Strategy Agency


Mr. De la Parra is an entrepreneur focused on Information Technology, Education and Health. He is creative, results-driven and has 16+ years of Digital Strategy experience in architecture and implementation.
Mr. De la Parra is the COO and Co-founding Partner at The Solomon Brokerage Firm. He currently leads as CEO at Mass Media Division and De la Parra Mobile Solutions, while also being the President & Co Founder of PetroM Renewable, Vice President of Operations & Strategy at PetroM Corp and at its division PetroM Logistics. Former COO & Co-founder at RegenerAge® Clinic & RegenerAge® Beauty & a member of the Board of Advisors. Former CEO & Founder at Astrum Salud Móvil and its Telemedicine service Astrum Móvil, former Digital Strategy Director & Co-founder at Dr. Jois®, BiorganicAging®, What Skin Needs™/WSN International Pty. Ltd. He also served as a member of the Board of Advisors and is former CMO at ReAnima Advanced Biosciences and is former Digital Media Director at Bioquark, Inc. He is also the former Latin America Region Manager and Digital Strategy adviser at CardiacSense and former CITO & Senior Partner at Cerezo Editores.
Within the academic and educational fields, Mr. De la Parra acted as the Executive Vice President: Executive Chairman of the WAMS Mobile Health Division, WAMS Chief Coordinating Officer, a member of the WAMS Executive Council (WAMS Executive Board), a member of the WAMS Education & Training Board (ETB), a member of the WAMS Editorial Board, an Honorary Member of the Academy Faculty FWAMS, an Honorary Fellow of the Academy & is also a Senior Partner at WAMS, The World Academy of Medical Sciences. He is also an Advisory Board member, functioned as the Chief Operating Officer and is a Co-founding Partner at The Reprogramming Medicine Association. Mr. De la Parra is also a member of Singularity University.
Mr. De la Parra is also a member of the National Introducing Brokers Association and a part of the National Biodiesel Board (Alliance Program), also being the founder and former Board of Directors member of Astrum Fundación, an Advisory Board member of the Lifeboat Foundation, an Advisory Board member of the Future Worlds Center - Cyprus Neuroscience & Technology Institute (Senior TV Program), a Federated member of the International Longevity Alliance, and volunteered as Digital Strategy adviser at the Major Mouse Testing Program. He is also a member of the Web Committee at the Life Extension Advocacy Foundation / Lifespan.io and has volunteered with SENS Research Foundation for the OncoSENS Program in Digital Strategy.
Alejandro De la Parra Solomon is on Facebook, and on LinkedIn.