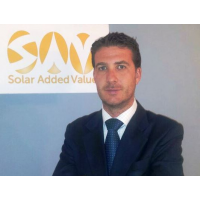 Emilio Agudo
CEO at SOLAR ADDED VALUE
Spain · Madrid
3

followers

0

following

0

recommendations
View Emilio's full profile. It's free!
Contact Emilio, connect with your colleagues and find business opportunities worldwide.
View Emilio's Full Profile
Summary
SAV team is made up of technical professionals, in the main engineers, highly expertise at developing research projects for the application of innovating products and solutions within photovoltaics and in the energy efficiency sector.

Our R&D department can develop works in different fields such as electronics, instrumentation and control development and integration, mechanical engineering analysis, software development (LabView, C++, Matlab, 3D modelling ... etc).

Highly opened to cooperate in R&D projects or new developments under request.