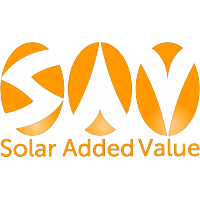 SOLAR ADDED VALUE
SOLAR ADDED VALUE · Small and Medium Enterprise
Ribera del Loira 46, 28042, Madrid, SPAIN. · Spain | BASIC
SAV is a a SME technological company focusing its activities in the solar energy sector and in the energy efficiency sector. Our team is made up of technical professionals, in the main engineers, highly expertise at developing research projects for the application of innovating products and solutions within these sectors.

Since the outset, our technical capacity has been valued not only by private companies but also by important technological centres and universities. Furthermore, our previously acquired international experience has allowed for significant commercial relations within entities elsewhere in Europe and in countries such as the USA, Japan, Taiwan and South Korea, among others.

Within the the solar energy sector we have being rapidly recognized as an international reference company within the Concentrated Photovoltaic Sector (CPV) where we develop testing equipment for solar devices (solar cells, optics, solar modules and others). In addition we can develop engineering projects for solar farms as well as technical due diligence. In the energy efficiency sector we have developed energy audits for either for SME or BIG enterprises in different sectors (industrial, financial, building construction ... etc). We also development and apply different projects to achieve energy saving within the corresponding institution.

SAV also counts with a dedicated R&D department that can carry out works in different areas such as electronics, instrumentation and control development and integration, mechanical engineering analysis, software development (LabView, C++, Matlab, 3D modelling ... etc).
Research areas
Electronics, IT and Telecomms
Electronic circuits, components and equipment
Electronic engineering
Semiconductors Technology
Industrial manufacturing, Material and Transport Technologies
and 31 more
Organization Website

Organization Type

Small and Medium Enterprise

Founded

2012

Headquarters

Ribera del Loira
46, 28042, Madrid, SPAIN.
Start collaborating Now!
We are currently seeking best-in-class collaboration partners for the postings listed below. You can respond to current opportunities by browsing the listed entries. We do want to invite you to cooperate with us so please contact us through the available template and we will get in contact with you. Please provide as much detailed information as possible in order to facilitate the engagement process.
Contact Person