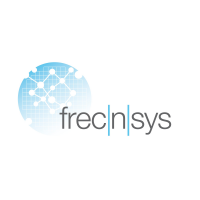 frec|n|sys SAS
Small and Medium Enterprise
18 rue Alain Savary, 25000 Besançon, France · France · Not set | BASIC
frec|n|sys designs, fabricates and commercializes passive RF components (surface acoustic wave – SAW, bulk acoustic wave – BAW, guided acoustic wave devices in general), i.e. sensors, filters and resonators for on-board signal processing. The main applications of such devices are dedicated to harsh environment monitoring, Defense/Space and Telecoms.

The company was created in early 2013 to answer the national demand and international need for advanced SAW device development and production. The skill and expertise of the company originate from competences developed at the FEMTO-ST Institute/CNRS - Besançon. The company owns a patent port-folio protecting its innovation particularly in the field of sensors for harsh environment for which the company ambition to be an international leader. Since Ocyober 2017, frec|n|sys is a 100% subsidiary of the SOITEC group which develops and commercializes advanced SOI wafers for microelectronics and a novel generation of oriented single-crystal piezoelectric layer on silicon, the so-called POI (piezoelectric-on-insulator) wafers.
Research areas
Process control and logistics
Process automation
Aerospace Technology
Aeronautical technology / Avionics
Household Goods & Appliances
and 8 more
Organization Website

Organization Type

Small and Medium Enterprise

Founded

2013

Headquarters

18 rue Alain Savary, 25000 Besançon, France
Publications (2)
Start collaborating Now!
We are currently seeking best-in-class collaboration partners for the postings listed below. You can respond to current opportunities by browsing the listed entries. We do want to invite you to cooperate with us so please contact us through the available template and we will get in contact with you. Please provide as much detailed information as possible in order to facilitate the engagement process.
Contact Person