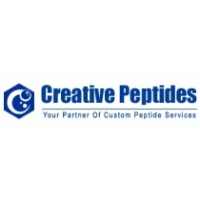 Creative Peptides
Large Enterprise
Shirley, New York · United States · New York | BASIC
Creative peptides is specialized in the process development and the manufacturing of bioactive peptides. We are dedicated to offering custom peptide synthesis, process development, GMP manufacturing as well as catalog products for customers in industry and research area. Creative Peptides is staffed by scientific teams with experts in the field of peptide technology, antibodies and synthetic chemistry. Our extensive expertise is translated into high quality products and world-class services to ensure the maximum satisfaction of the customs.
Research areas
Biological Sciences
Biochemistry / Biophysics Technology
Genome Research
Bioinformatics Technology
Biochemistry / Biophysics Market
and 3 more
Organization Website

Organization Type

Large Enterprise

Founded

2005

Headquarters

Shirley, New York
Publications (20)
Start collaborating Now!
We are currently seeking best-in-class collaboration partners for the postings listed below. You can respond to current opportunities by browsing the listed entries. We do want to invite you to cooperate with us so please contact us through the available template and we will get in contact with you. Please provide as much detailed information as possible in order to facilitate the engagement process.
Contact Person