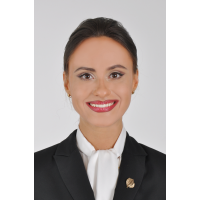 View Maria's full profile. It's free!
Contact Maria, connect with your colleagues and find business opportunities worldwide.
View Maria's Full Profile
Summary
Maria Pelekh is a technology broker for the Eastern Europe and Central Asia regions in the UTTC UW.

She is Ph. D. candidate in Law at the John Paul II Catholic University of Lublin and the Stefan Banach Scholarship Programme beneficiary. Furthermore. She has completed bachelor and master studies in the field of European Union Law, both with granted scholarships. She speaks Ukrainian (Native), Polish (Fluent), English (Fluent) and Russian (Fluent).

She has gained practical experience through employment in the area of diplomacy, international business and academic relations. Maria Pelekh is also a co-inventor of a start-up with plenty of potential.

She is responsible at UTTC UW for the following subjects:

Evaluation of technological projects for investment attractiveness;
Building a network of business partners and acquiring financial resources for the implementation various types of projects ;
Analyzing the market potential/opportunity for the selected patents, know – hows and inventions;
Researching, discovering, and negotiating with potential clients and investors for the UTTC UW patents and inventions;
Broadly defined promoting and popularizing an inventions and know – hows of Warsaw University, organizing events and meetings;
Preparing non-confidential summaries of patents or inventions for marketing purposes
Finding partners for ideas and technologies developed by researchers and inventors of the University of Warsaw
Preparing business offers for potential clients;
Identify unmet needs in the various industries or market and searching for technological projects for individual and institutional investors;
Implementation of innovative projects for corporations, scientific research and business institutions;

She is creative and open-minded person, who loves networking, traveling, discovering different cultures, working in multicultural environment among creative and ambitious people. She is fond of saying that everything is possible and she believes the limits only exist in our minds. Despite of her scientific and professional activity, she is a person who deals with broadly understood social, cultural and charity activities. Although She was always passionate about law, She was also trying to understand the branches of knowledge that rule the world which are mainly the economy and politics, both having a major impact on the legislation and, consequently, on the life of each of us. She strongly belives that the real development is a sustainable development and the best innovation is the one which will be good not just for us and for the ensuring economic growth currently but for next generations as well. A true community is not just about being geographically close to someone or part of the same political or economic organization. It's about feeling responsible for each other and for what will happen with our planet in future, as a Humanity is our ultimate community and the Earth is our ultimate place where everyone plays a crucial role.