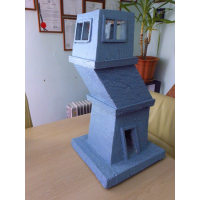 ADVANCED PASSIVE TECHNOLOGY
Independent Researcher&Inventor
Romania
0

followers

0

following

0

recommendations
View ADVANCED's full profile. It's free!
Contact ADVANCED, connect with your colleagues and find business opportunities worldwide.
View ADVANCED's Full Profile
Summary
I have created a complete technology, starting from the recycling and industrialisation of organic waste, transformation of these into building materials, and ending with a building system for using these building materials in a passive building that does not consume energy from external supplier.

This new technology consists of:
1) A method of recycling organic waste, converting the same into a raw material;
2) Industrially processing of the above raw material to obtain composite building materials, such as building blocks and panels, doors, window frames, interior and exterior floors, etc. with the following main features:
- density between 200 kg/m3 and 800 kg/m3
- maximum compressive strength:123.8 N/mm2;
- minimum bending strength: 9.10 N/mm2
- 100% ecological and 100% recyclable after use;
- fire-resistant (do not support combustion);
- thermal-insullating (thermal conductivity coefficient (λ): minimum 0.055 W/mK - maximum 0.052 W/mK);
- water-resistant;
- sound-absorbing;
3) A building system using above building materials, for making passive buildings with zero consumption of energy from external supplier, earthquake-, hurricane-, tornado- and flood-resistant, fire-resistant and water-resistant.