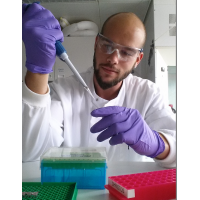 Christos-Moritz Loukas
Expert
Greece · Athens
1

followers

1

following

0

recommendations
View Christos-Moritz's full profile. It's free!
Contact Christos-Moritz, connect with your colleagues and find business opportunities worldwide.
View Christos-Moritz's Full Profile
Summary
I am a postdoctoral associate at the Institute of Nanoscience and Nanotechnology (INN) of NCSR "Demokritos". I have a comprehensive background in environmental biology, having spent 10 years to study and conduct relevant research at the University of Southampton and the National Oceanography Centre (NOC). During this time and as part of the NOC's Ocean Technology and Engineering Group, I also acquired 6 years of experience in microfluidic technology and analytical system development for RNA-based detection of harmful microorganisms in water samples. Upon becoming a member of the INN at NCSR "Demokritos", I continued developing microfluidic analytical systems and expanded my skills for the detection of pathogenic bacteria in food samples using various molecular tools (PCR, LAMP, NASBA). I have worked extensively in multidisciplinary environments and have substantial experience performing in successful interdisciplinary collaborations (Ikerlan-IK4, Spain; DTU Nanotech, Denmark; EV Group E.,Austria) for the implementation and/or completion of European projects (LABONFOIL and LoveFood2Market).