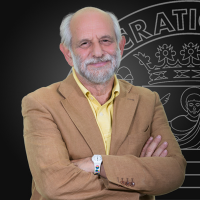 Paolo Ciambelli
CEO of NARRANDO SRL and Professor emeritus at the University of Salerno at University of Salerno
Italy · FISCIANO
7

followers

0

following

0

recommendations
View Paolo's full profile. It's free!
Contact Paolo, connect with your colleagues and find business opportunities worldwide.
View Paolo's Full Profile
Summary
Academic experience:
Associate professor, industrial chemistry, University of Napoli Federico II
Full professor, chemical engineering, University of Salerno
Retired since Nov. 2015, professor emeritus since Nov. 2016
Past positions and roles:
Member of Senato accademico of the University of Salerno, Head of Department of chemical and food engineering at University of Salerno, Director of research Center NANO_MATES, at University of Salerno, Head of college board of Doctorate course at University of Salerno
Current job position:
CEO of start up NARRANDO SRL, Head of southern section of AIDIC (Italian association of chemical engineering).
Involved in several research projects financed by regional, national, international funds, co-author of more than 400 publications, 12 patents.