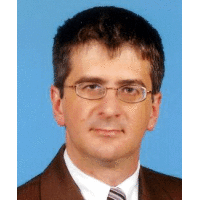 MILTON S F DE LIMA
Professor at Instituto Tecnologico de Aeronáutica
Brazil · São José dos Campos
3

followers

1

following

0

recommendations
View MILTON's full profile. It's free!
Contact MILTON, connect with your colleagues and find business opportunities worldwide.
View MILTON's Full Profile
Summary
He graduated in physics from the Catholic University of São Paulo (1989), Master in Nuclear Technology from the University of São Paulo (1992) and hold a Ph.D. in Metallurgical and Materials Engineering from the University of São Paulo and Swiss Federal Institute of Technology (1997). He was research and teaching Assistant of Professor Wilfried Kurz from 1997 to 2000. Has worked on projects with big companies like Von Moss / Swiss Steels, ThyssenKrupp, Usiminas, Volvo, Alcan, Alstom, as well as participated in the process of incubation and micro-enterprises promotion of the Technology Park of Sao Paulo. Participated as a consultant, the deployment of two French companies in Brazil, through the consortium Isotech / Pays de la Loire. He was a Member of Council of the Millennium Factory Institute. He was a consultant ad-hoc project of the Center for Competitiveness and Innovation Brazil. He was visiting professor at the Federal University of Uberlandia (UFU), Universidad Nacional de Colombia (UNAL) and Colorado School of Mines (CSM). He is currently responsible for the laser processing labs at the Institute for Advanced Studies (IEAv), is associate professor at the Instituto Tecnologico de Aeronautica (ITA), is associate professor of the School of Mines, Federal University of Ouro Preto (UFOP). His laser materials processing graduate course at ITA completed ten years in 2016. Currently, he is also consultant in some metal working industries. He has experience in Materials Engineering and Metallurgy, with an emphasis in Physical Metallurgy, acting on the following topics: welding, laser welding, surface treatments, nanotechnology, additive manufacturing and technological innovation.