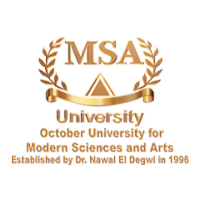 MSA University
Research Institute
6th October, Giza, Egypt. · Egypt | BASIC
MSA University has been validated by two of the top universities in the United Kingdom; these are Bedfordshire and Greenwich Universities. Accordingly, our graduates receive dual degrees, a British degree and an Egyptian one accredited by the Egyptian Supreme Council for Universities.
Research areas
Medicine, Human Health
Diagnostics, Diagnosis
Medical Research
Biology / Biotechnology
Cellular and Molecular Biology Technology
and 6 more
Organization Website

Organization Type

Research Institute

Founded

1996

Headquarters

6th October, Giza, Egypt.
Start collaborating Now!
We are currently seeking best-in-class collaboration partners for the postings listed below. You can respond to current opportunities by browsing the listed entries. We do want to invite you to cooperate with us so please contact us through the available template and we will get in contact with you. Please provide as much detailed information as possible in order to facilitate the engagement process.
Contact Person