In line with our mission to track down Innoget users in the world's most amazing organizations to discover their thoughts on technology transfer and open innovation, where they see is headed, and learn more about how is the innovation culture within their organization, this month we interviewed Mr Fernando Cruz, Director of the Technology Transfer Office at the University of Alcalá, to know more about the future of technology transfer and key elements for successful implementation.
The University of Alcalá was founded in 1499 as a completely new education project by Cardinal Cisneros. The University was moved to Madrid in the mid-nineteenth century as a result of the expropriation of Church lands, and it was reopened in 1977. Today, the University of Alcalá is a medium-sized institution.
In addition to classical humanistic studies and the social sciences, the University of Alcalá has incorporated the most modern qualifications in all scientific fields, such as Health Sciences and various engineering sciences. Its more than 29,000 students, 1,627 teachers and researchers and 762 administrative and service staff members, engaged in more than 38 official degree courses, and a wide range of postgraduate and continuing education courses.
Fernando, can you briefly describe your role within the University of Alcalá and how do you define open innovation?
The person leading the Technology Transfer Office is in charge of coordinating all the activities of knowledge produced at the University. We consider transfer activities to be those linked to researcher training, those that generate economic value (contracts and projects with companies), patents, technology-based companies, and those that generate social value, among which we highlight those of scientific dissemination.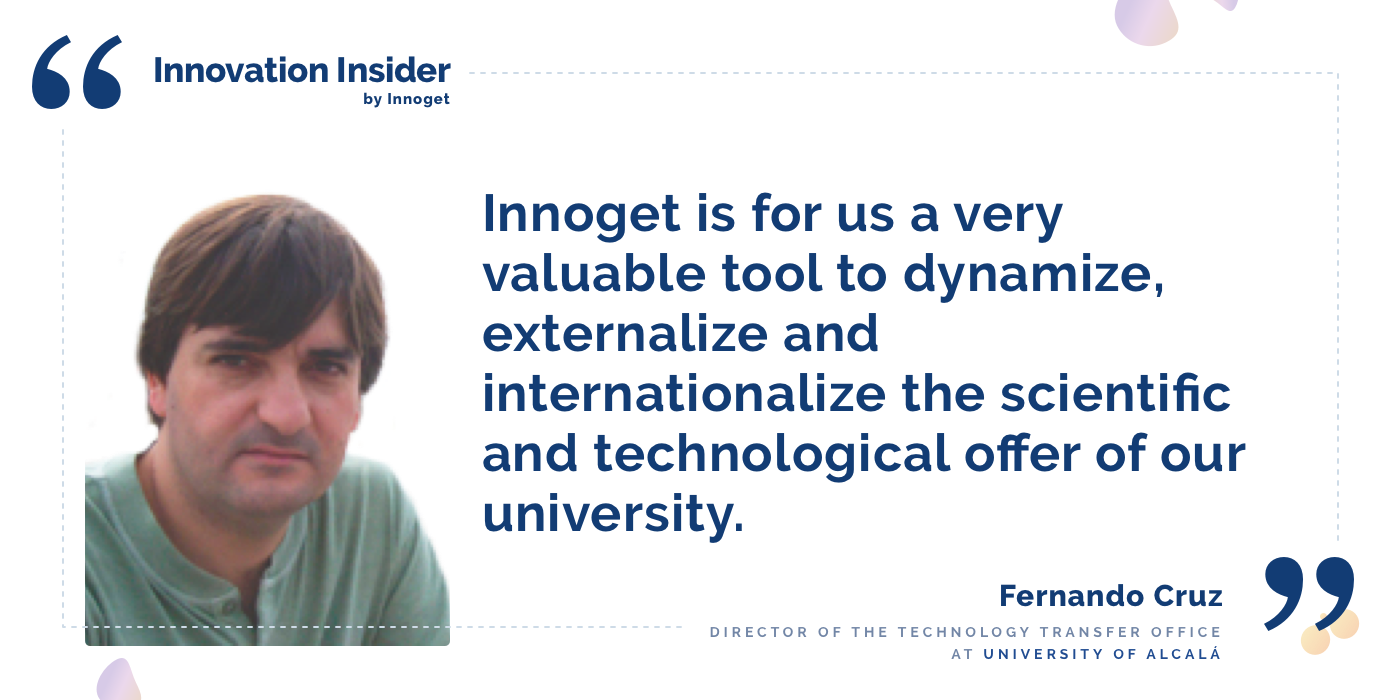 Fernando Cruz, Director of the Technology Transfer Office at University of Alcalá / Innoget, Fernando Cruz
Where do you see technology transfer headed and how do you think Universities can prepare for where it is going?
Without diminishing the importance of the transfer of economic value, in recent years dissemination activities are being promoted to make citizens aware of the value of the innovation work carried out at universities.
Based on your expertise, what are the key elements to implement a successful open innovation strategy?
To count on a working plan, a team of specialized technicians, and economic resources to undertake the actions.
Can you share anything about how Innoget helps open innovation activities?
Innoget is for us a very valuable tool to dynamize, externalize and internationalize the scientific and technological offer of our university.