We recently interviewed FabioCmpanile, acting as the Global Head of Science & Technology at Givaudan. Fabio collaborates for shared success, leveraging capabilities and knowledge in flavor and taste science.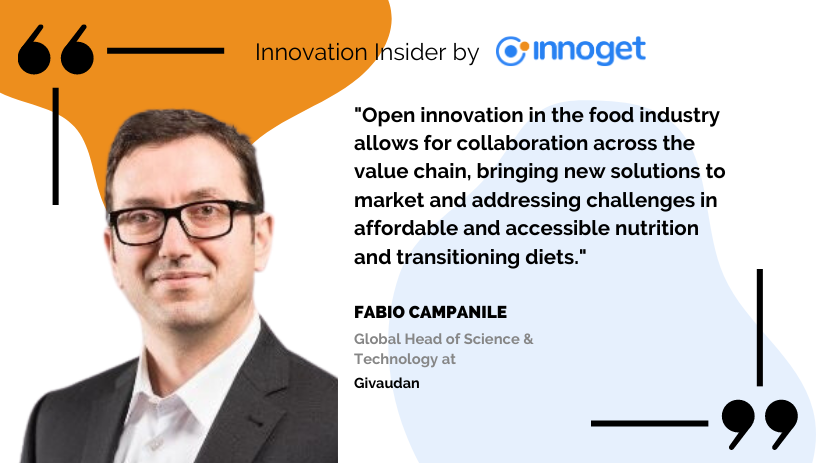 How do you ensure that sustainable practices are integrated into the development of new food technologies?
Our innovation program aims towards building technologies and new products for our customers but also enabling new food products. In the first case, we aim at having our innovation projects clearly quantify the (positive) sustainability impact they have vs incumbent solutions. We also look beyond as in the case of plant protein, where our innovation is highly focused on enabling a sector that is driving more planet-friendly food solutions for consumers.
What innovations or strategies have you implemented to reduce waste and improve resource efficiency in the development of new food technologies?
We have several programs running across the organization to reduce emissions, repurposing our side streams and also reduce plastic consumption. Our innovation programs take into account all these aspects and we go a step beyond using side streams available in the industry. We are also making headway on the creation and ingredient development side through our Biotechnology platform where we are able to innovate novel ingredients with low GHG footprints.
What strategies do you think are necessary for effective innovation through collaboration in this sector?
We work with our suppliers and partners (startups, academia) to solve key food challenges with sustainability in focus. For instance, we aim to reduce GHG emissions by 70% for our Scope 1 and 2 and 20% for Scope 3 (GHG Protocol) by 2030. Furthermore, we aim to become climate neutral before 2050. Collaboration is crucial to achieve these goals and a lot depends on the incoming raw materials we procure.
What do you think are the benefits of open innovation in the food industry? 
We know we have many challenges ahead of us in food and nutrition: affordable and accessible nutrition for all, transforming the food system to be more planet friendly including transitioning diets away from animal-based products. Collaboration across the value chain is essential in order to bring new solutions to the market.
What do you believe are the most important elements of successful open innovation projects in the food industry?
Reflecting on open innovation and successful approaches, I see a few key points to address: it is important to be clear about what we look for and identify opportunities accordingly; building trust with partners, identifying common goals and executing with quick wins are all very important to consider. It is also important to invest time in the partnership and not just leave it to a transactional model. Finally, we always need to keep consumers in mind and what they need at any point in the value chain.