At Innoget, we recently interviewed Tony Moses, CRB's Fellow of Product Innovation, leverages 15+ years of experience to drive innovation and assist clients in navigating technical challenges. He supports clients in meeting consumer demands for sustainability, transparency, and value.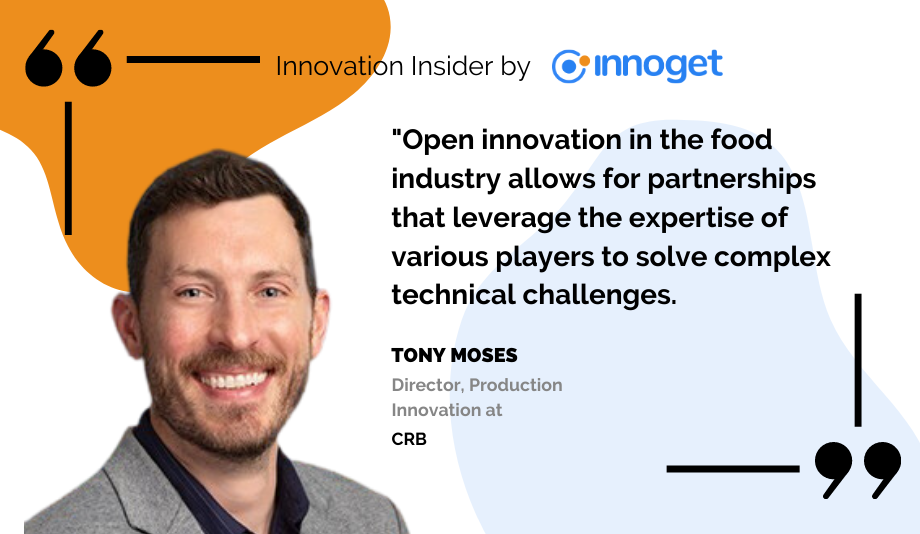 How do you ensure that sustainable practices are integrated into the development of new food technologies?
CRB helps clients integrate manufacturing technologies into the facilities, to improve their sustainability. There are opportunities in energy, water, and natural gas usage. These range from technologies to improve efficiency, recapture water or energy, and monitoring to help continually optimize usage. All of these technologies require capital investment. So it's critical that a company's leadership team be fully invested in sustainable processing, to dedicate that capital. It's critical that CRB help them realize benefit to operations, so they can realize return-on-investment of those technologies.
What innovations or strategies have you implemented to reduce waste and improve resource efficiency in the development of new food technologies?
Monitoring is a classic example of resource efficiency improvement. Companies quickly discover that their air systems have leaks, or they're leaving water running unnecessarily. There's also a lot of potential in building HVAC. High-efficiency fans reduce the energy load of the system. Hygienic buildings also require air flow into and out of the building, to create pressure zones to prevent contamination. So heat recovery of the exiting air is another common strategy for resource efficiency improvement. Water is commonly used in heating and cooling equipment, so these systems can be built as a closed, meaning they recirculate the same water, after appropriate treatment. For systems that require significant cooling, CRB has designed high efficiency ammonia systems. It's also critical to scrutinize energy use and maximum load. We've worked with companies to optimize their scheduling or install equipment with VFDs (variable frequency drives), to reduce the peak steam or electrical power load on a system. This allows the building to use a smaller boiler or draw less power from the utility.
What strategies do you think are necessary for effective innovation through collaboration in this sector?
Once the technology is in use, reducing complexity from operations is critical. Our clients are often challenged with finding employees, especially those with specialized skills. So it's critical that collaborators have honest dialogue about how they technology will be used, and what support will be available.
It's also critical that improving sustainability improves the competitiveness of the owner. This can be through reduced utility consumption, more stable operations, or even enabling brand claims. Collaborators need to discuss benefits, as well as what costs or sacrifices they'll be willing to make.
What do you think are the benefits of open innovation in the food industry? 
I think the food industry already relies on open innovation, in some form, to solve problems. Food companies tend to have people that excel at bringing products to market in a short time, i.e., they're highly skilled at rapid commercialization. On the other hand, they don't have time to develop deep understanding of certain technical topics. So this lends itself well to the formation of partnerships. Many people rely on partnerships, either with raw material suppliers or OEMs (Original Equipment Manufacturers), to implement new ingredients or technologies. Ingredients must be listed on every product, and the package itself gives a lot of information about how a product was made.
What do you believe are the most important elements of successful open innovation projects in the food industry?
Rapid turnaround times and ready-to-implement technologies. The food industry launches products rapidly, to respond to consumer trends. They rarely have more than a few months from concept to shelf. So the process must be quick, and the innovators must be candid about the state of their technologies.