At Innoget we recently interviewed Hadar Sutovsky, an agro-food industry expert with a wealth of experience in FoodTech, Sustainable AgTech, and IMPACT technology. With a scientific background and a track record in global business development, Hadar's expertise in innovation and investments has made her a key player in the field. Stay tuned to learn more about her remarkable insights regarding Open Innovation and the agro-food industry.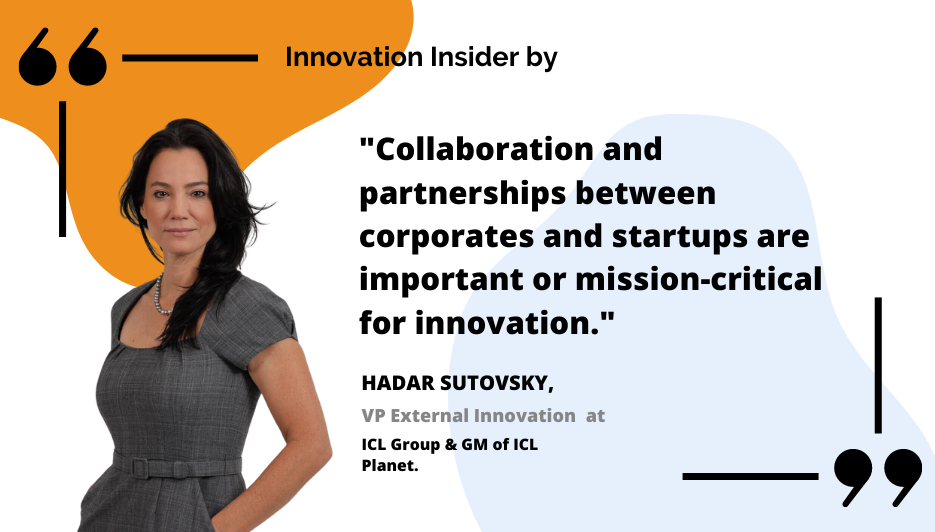 How do you ensure that sustainable practices are integrated into the development of new food technologies?
Our Research, Development, and Innovation unit (RD&I) develops the future products, processes, and solutions the company will offer to our clients and stakeholders. To ensure that sustainable practices are integrated in new food technologies and not only food but other dozens of ongoing enterprises and projects worldwide raging also in Agriculture and Industrial products, we integrated an IMPACT assessment process that supports every step of new technology development, with three main purposes: (a) Mindfulness & Intentionality: keeping our minds open to the potential, the positive and negative, impact we generate. (b) Data-driven: gathering data on the projected positive impact, as well as potential risks which we will need to mitigate. (c) Measurement: measuring and monitoring the impact contribution of each project, as well as the portfolio's aggregated impact and progress. As I see it, reporting on tonnes of carbon, number of trees or diversity percentages does not reflect the real impact that our business does, our intentionality with the RD&I impact strategy and assessment is putting a price tag on the impacts of our R&D and Innovation projects, and creating real transparency on our future impact.
What innovations or strategies have you implemented to reduce waste and improve resource efficiency in the development of new food technologies?
Food security and food waste are impacting every consumer on the planet. ICL is transforming the AgriFood Tech startup ecosystem with its innovative Planet Startup Hub, a vehicle in which ICL cultivates, nurtures, and accelerates innovation and technologies in the AgriFood tech ecosystem. Lately, we invested in Arkeon, a biotechnology company that creates completely customizable protein ingredients by capturing the greenhouse gas carbon dioxide (CO2) and converting it into the 20 proteinogenic amino acids necessary for human nutrition. The resulting alternative proteins are carbon-negative and clean-label functional ingredients.
What strategies do you think are necessary for effective innovation through collaboration in this sector?
A collaboration between a corporate and a start-up in food is not at all easy to facilitate due to fundamental differences between these two opposites for example risk-taking, momentum or agility and market access. But still these collaborations are essential for the transformation needed in the industry, to my opinion the strategies or guidelines that will help to get started swiftly with a successful collaboration are first identifying growth areas at the intersection of market opportunity, then setting a bold vision, and fully understand, what this collaboration will entail to bring it to life meaning what should be true in terms of desirability, feasibility and viability. Most important is to develop key performance indicators and establish benchmarks for success. Throughout the collaboration when it's a pilot; a PoC; a strategic investment or an incubation/acceleration program there has to be data capturing and feedback continuously for iteration to build up a body of evidence.
What do you think are the benefits of open innovation in the food industry? 
Collaboration and partnerships between corporates and startups are important or mission-critical for innovation, these partnerships take a range of forms, including investment, incubation, acceleration, pilots and other contracts. These innovation base collaborations could infuse big corporates with the methods, tools and mindsets to increase the empathy, risk-taking and agility that drive disruption from within. Long-term, these partnerships may lead to a deeper relationship such as an acquisition, joint venture, or investment. Startups also find much value from these partnerships including inside industry expertise, connection to large customer bases and access to potential capital.
What do you believe are the most important elements of successful open innovation projects in the food industry?
To make it work both parties should treat it as a partnership, be open for learning and embrace the differences. Moreover, interpersonal relations play an important role, first and foremost, a collaboration between a startup and a major group is a question of mutual understanding. After all, before it affects two legal entities, it starts out by affecting people from both the company and the startup. For me, there are three areas that are important to the success of a collaboration between corporates and start-ups: (a) Sharing goals (b) Finding a common language and common ground where the value is built (c) Using the right toolkit and collaboration approach: finding the right approach and toolkit starts from understanding goals.