In line with our mission to track down Innoget users in the world's most amazing organizations to discover their thoughts on technology transfer and open innovation, where they see is headed, and learn more about how is the innovation culture within their organization, this month we interviewed Ms Lidia Aguilera, Technology Transfer Officer at University of Luxembourg, to know more about the future of technology transfer and key elements for successful implementation.
Founded in 2003, the University of Luxembourg is the only public university of the Grand Duchy of Luxembourg. Multilingual, international and research-oriented, it is also a modern institution with a personal atmosphere. With 6,423 students and staff from all over the globe, the University offers a unique mix of international excellence and national relevance, delivering knowledge for society and businesses.
The University of Luxembourg has set up three interdisciplinary centres (IC) to ease the cooperation between different scientific disciplines and to exploit the benefits of collaborative research: The Interdisciplinary Centre for Security, Reliability and Trust (SnT), the Luxembourg Centre for Systems Biomedicine (LCSB) and the Luxembourg Centre for Contemporary and Digital History (C2DH). The ICs bring together teaching and research on cross-cutting issues in several disciplines promoting innovative approaches and new perspectives. The Faculty of Science, Technology and Medicine (FSTM), The Faculty of Law, Economics and Finance (FDEF) and the Faculty of Humanities, Education and Social Sciences (FHSE) contribute with their multidisciplinary expertise to generate and transfer knowledge in order to better understand, explain and advance society.
Lidia, can you briefly describe your role within the University of Luxembourg and how do you define open innovation?
My role at the University of Luxembourg is to facilitate the Knowledge and Technology Transfer process and involves a range of different activities, which include identifying University knowledge and its market potential, the development of the best commercialization strategy, advice and support on the proof-of-concept projects and marketing and licensing IP to industry.
Technology Transfer is the process of introducing into the market new knowledge, services, products and methods, that is from the research laboratory to the marketplace.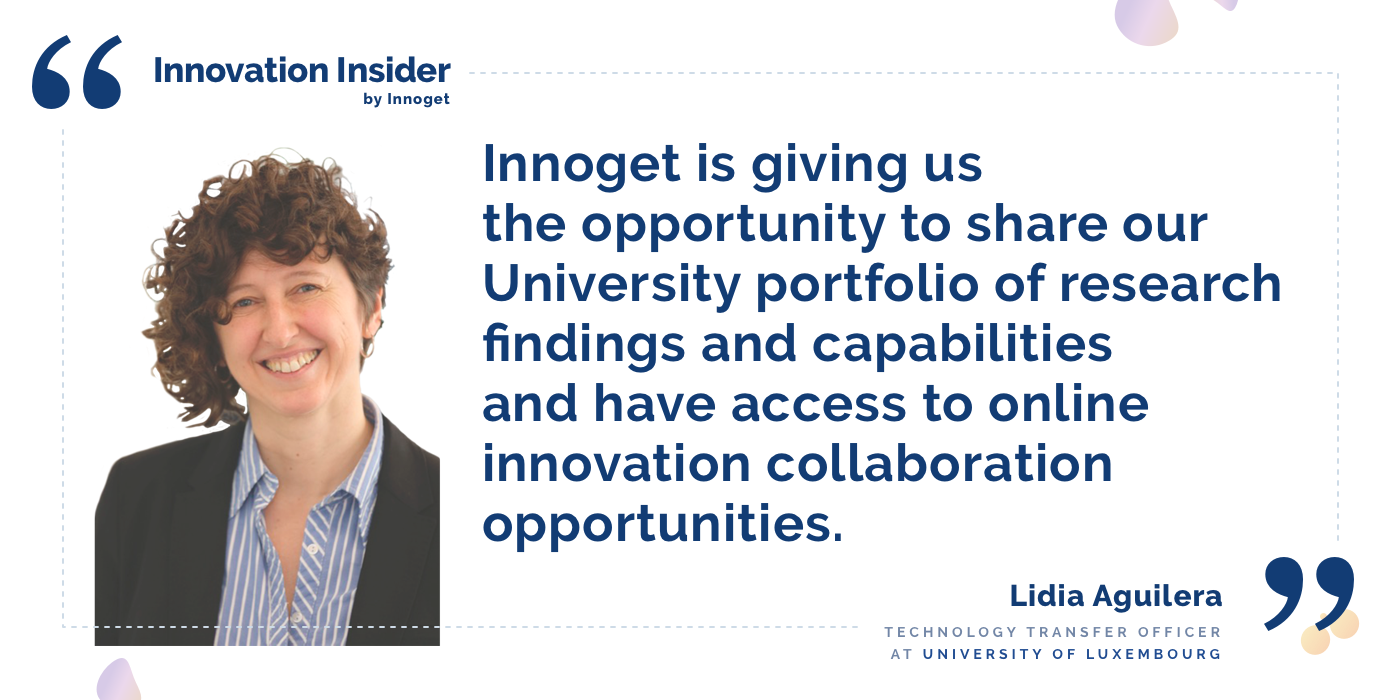 Lidia Aguilera, Technology Transfer Officer at the University of Luxembourg / Innoget, Google
Where do you see technology transfer headed and how do you think Universities can prepare for where it is going?
Technology is changing and developing very fast, so to assure the Knowledge and Technology Transfer from Universities drives to Innovation Economy, the Universities have to change from traditional processes to more dynamic and creative approaches to collaborate with industry.
Based on your expertise, what are the key elements to implement a successful open innovation strategy?
I do believe the achievements in Technology Transfer are never individual, any transfer process involves a significant number of professionals without whom the process would not have been successful. A successful technology transfer strategy starts probably with:
• Industry engagement from the beginning of the research project
• A good dissemination strategy (explaining research findings and discoveries to society and industry)
• A professionalized Technology Transfer team supporting the research projects to help growing and advancing those discoveries (through a proof of concept project, for example) to a final product or service
• A professional legal team implementing cost-effective and market-oriented IP protection strategies
What is the open innovation culture like in your organizations?
Open innovation refers to the use of internal and external resources to strengthen the innovation capabilities of a firm. In this sense, the University of Luxembourg, as a knowledge supplier, fulfills a crucial role within the Luxembourgish and European innovation ecosystem. By partnering with the University of Luxembourg, companies explore new technologies and methods without investing in new employees and have access to a wide range of expertise in a number of different fields.
Can you share anything about how Innoget helps open innovation activities?
Innoget is giving us the opportunity to share our University portfolio of research findings and capabilities and have access to online innovation collaboration opportunities.