We are tracking down Innoget users in the world's most amazing companies to discover their thoughts on open innovation, where they see open innovation is headed, and learn more about how is the innovation culture within their organization.
Therefore, this month we interviewed Mr. Javier Tenorio, Open Innovation & IP at Metalsa, to know more about the future of open innovation and key elements for successful implementation. In order to get a clear picture of Metalsa, it manufactures tier 1 and tier 2 structural components for the light and commercial vehicle and markets. Being a private company and a subsidiary of Proeza Group, it is constantly growing and innovating. Metalsa has state of the art technology that keeps products at the forefront, and its portfolio includes light duty frames, space frames, suspension modules, body structures, safety systems, transmission modules and fuel tanks for passenger cars and light trucks as well as chassis frames, side rails, and cross members of heavy trucks and buses.
Javier, can you briefly describe your role within Metalsa and how do you define open innovation?
I lead Metalsa's open innovation initiative to find unobvious solutions from external networks; either through crowdsourcing or by connecting with large communities of technical practitioners. We use open innovation and the front-end of innovation to explore approaches from other industries and find new partners. It has helped us to accelerate our learning process within a new topic, to boost the portfolio of potential solutions for a specific problem, and to enhance the way we operate our technology scouting.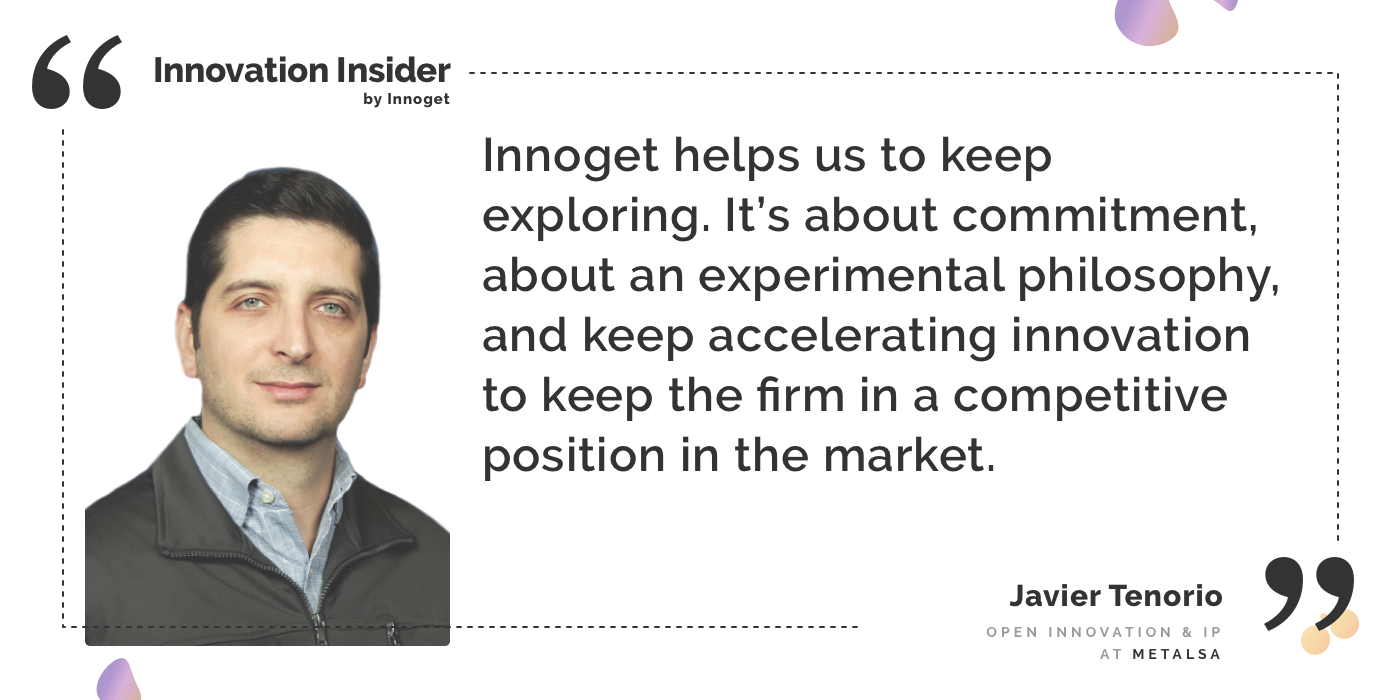 Javier Tenorio, Open Innovation & IP at Metalsa / Innoget, Javier Tenorio
Where do you see open innovation headed and how do you think organizations can prepare for where it is going?
Open innovation, specifically for accelerating technical developments, is a concept that needs to be developed into an organizational capability. This is why the most relevant part of using it is not related to the finding of technologies, but with the internal capability to absorb what was found.
Its adoption largely depends on how committed organizations are to developing their practices around it. As with any other innovation tool, the only way to adopt it is by customized it in a way that becomes intrinsic to the organizational culture.
Based on your expertise, what are the key elements to implement a successful open innovation strategy?
Focus on what is important.
If a firm starts using open innovation for things that do not impact the business strategy, the implementation will fail.
The right adoption of open innovation needs to be sponsored by the right people, could with the right resource allocation, and be conscious that it needs to be pivoted several times to learn. The best way to become good at it is to be focused on the process.
What is the open innovation culture like in your organizations?
As with any other firm, it started with a push and it has become more a way to operate in our innovation portfolio.
Part of our open innovation initiative is to enable our technical leaders to constantly explore the world for solutions. There is no guarantee of finding a suitable technology, but the chances increase dramatically if we help the organization to embrace a mindset of openness.
Can you share anything about how Innoget helps open innovation activities?
Keep exploring. It's about commitment, about an experimental philosophy, and keep accelerating innovation to keep the firm in a competitive position in the market.