We are tracking down Innoget users in the world's most amazing companies to discover their thoughts on open innovation, where they see open innovation is headed, and learn more about how is the innovation culture within their organization.
This week we chatted with Dr. Heiner Gers-Barlag, Team Leader Product & Packaging Scouting at Beiersdorf AG, one of the leading personal and skin-care manufacturers worldwide. As it heads into the future, Beiersdorf's brand icons, such as NIVEA, Eucerin, Labello and Hansaplast, ensure that globally over 500 million people feel good in their skin.
Dr. Heiner, can you briefly describe your role within Beiersdorf AG and how do you define open innovation?
The Product & Packaging Scouting team at Beiersdorf is located within the R&D's Open Innovation & Innovation Portfolio department. We ensure that new ideas for products and packaging find their way from the outside into our organization. We pass ideas over to the relevant R&D departments and collaborate cross-functionally with Marketing and Procurement. The openness to the outside world is the key element for us.
At Beiersdorf we believe that connecting with globally leading researchers and innovators is crucial for us to stay ahead. We handle R&D challenges in an open environment together with partners and thereby profit from the wealth of ideas and tap into external resources. Open innovation brings together competence, ambition, partnerships, and fairness to find outstanding solutions; it is one of the many paths we take to ensure innovation.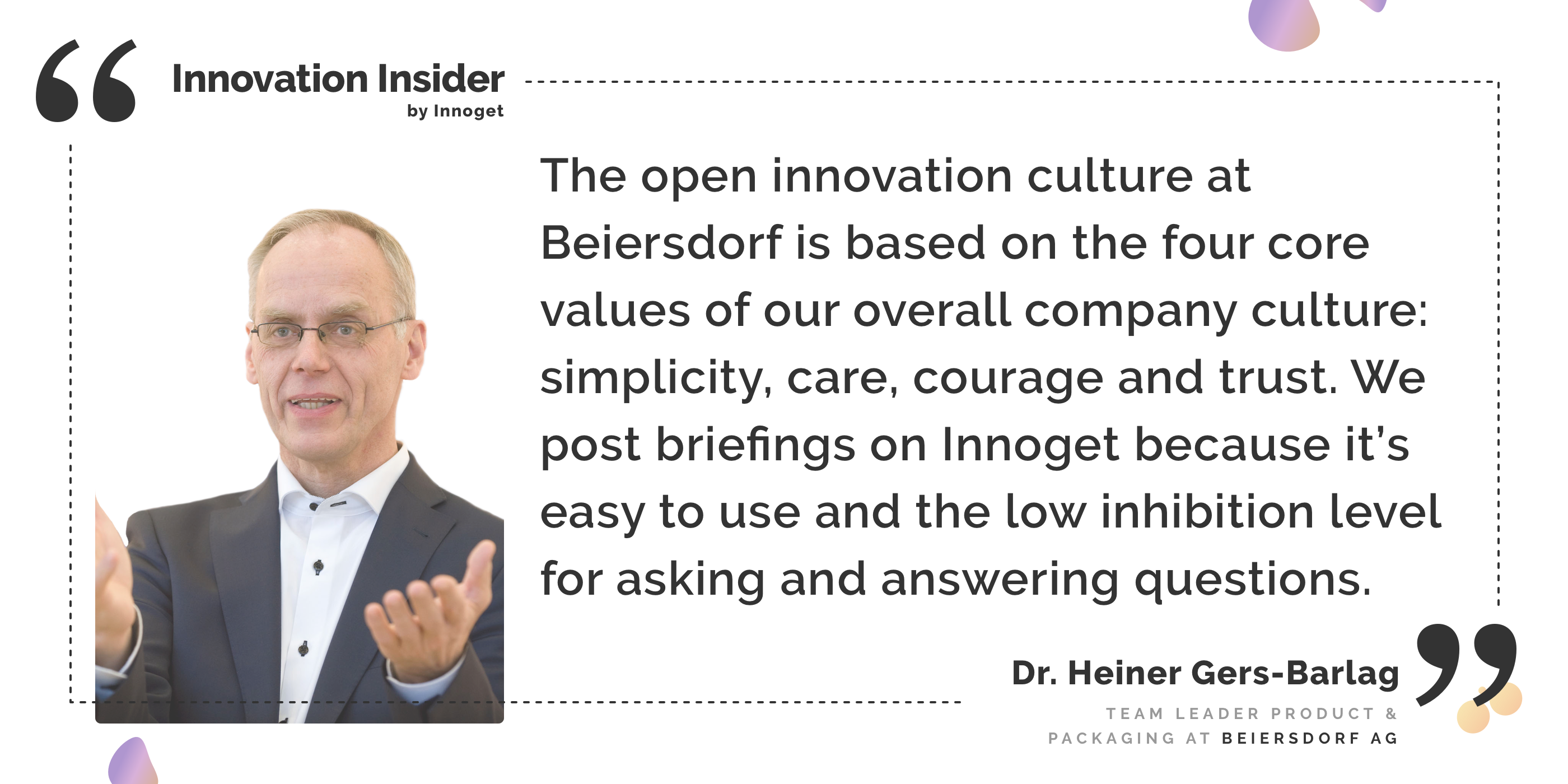 Dr. Heiner Gers-Barlag, Team Leader Product & Packaging at Beiersdorf AG / Beiersdorf AG
Where do you see open innovation headed and how do you think organizations can prepare for where it is going?
We are certain that in this age of globalization, growing specification, and increasingly faster innovation cycles, open collaboration shaped by mutual trust is the key factor to success. New product innovations come along as a mix of different technologies inspired by other industries. Therefore the adoption of new technologies and the application of their early forms is becoming essential to maintaining leading positions in the market. Technology growth as well as new ways of working and operating increase the speed of innovation. This is not only driven by technology, but also by new business models, and design and consumer-driven innovation.
Open innovation is the fundamental cornerstone for performing and taking on this kind of activities, challenges and learning processes. It allows us to break out of our own habits and patterns, which is relevant for focusing on and fostering current and new key competencies. In order to be open to new methods, a cultural journey is necessary to adopt open innovation activities and build trusting relationships with partners.
Based on your expertise, what are the key elements to implement a successful open innovation strategy?
To implement open collaboration within R&D three elements are required:
- transparent communication about OI towards internal stakeholders;
- precise and authentic communication within the OI process itself;
- creation of a win-win situation between partners.
The first element includes early involvement of the internal stakeholders so that ideas get the chance to become Beiersdorf products. At the same time, it is crucial to have realistic expectations, as it takes time and experience to expand innovation activities towards open innovation.
The second element is about how we communicate within the OI process. At the beginning of the process, it is important to understand the consumer's actual needs. Integrating this knowledge in a briefing and precisely explaining the desired outcome are critical factors for success. Clear questioning requires skills and experience.
For the latter element it is necessary to keep the probability of coming up with a solution as high as possible. This enables cooperation to be fruitful and creates a partnership based on confidence and trust.
What is the open innovation culture like in your organizations?
The open innovation culture at Beiersdorf is based on the four core values of our overall company culture: simplicity, care, courage and trust. All activities with regard to open innovation are united under our open innovation initiative PEARLFINDERS to focus on what's essential. As we strive for simplicity, clarity, and consistency, PEARLFINDERS consists of three levels with increasing numbers of diverse solution finders: an internal, an established, and an extended network. Within the internal network we have idea coaches and organize idea campaigns to generate and develop ideas. We do so to act responsibly towards our colleagues, consumers, brands, our society, and our environment. Especially when it comes to new approaches and ideas, we are courageous. We are eager to learn new things so we take initiative and approach others. In this regard it is helpful to learn from our mistakes and to see change as a great opportunity to improve. But again, we see mutual trust as a key factor for success. Therefore, we keep our promises and treat others with respect.
Can you share anything about how Innoget helps open innovation activities?
The Innoget platform is an important tool within our extended network. It helps us find new partners across many industries and offers low risk access as we move in a protected environment, especially with regard to IP. We post briefings on Innoget because it's easy to use, the low inhibition level for asking and answering questions, and its cost-efficiency. Since we established our own profile on Innoget, we have made many contacts in the scientific community and industry.