We are tracking down Innoget users in the world's most amazing companies to discover their thoughts on open innovation, where they see open innovation is headed, and learn more about how is the innovation culture within their organization.
This week we chatted with Austin Kozman, Ph.D and P.E., R&D Director - External Innovation at PepSico. As many of you already know, PepsiCo is a global food and beverage powerhouse with a portfolio that includes 22 billion dollar brands. According to Austin, their broad range of more than 3,000 delicious products offers consumers convenient, nutritious and affordable options in nearly every country around the world.
Austin, can you briefly describe your role within PepsiCo and how do you define open innovation?
At Pepsico External Innovation sits within the global R&D team at PepsiCo, with responsibilities that span our beverage, snacks and nutrition categories.
We bridge the gap between internal and external, providing seamless external partnering capabilities to accelerate the innovation agenda, mitigate development risk and uncover unique new business/technology opportunities for PepsiCo. 
Our passionately neutral position, clear understanding of strategy, rigorous partner assessments, unique performance-based agreements and thoughtfully integrated optionality provide global R&D the highest probability of engagement success.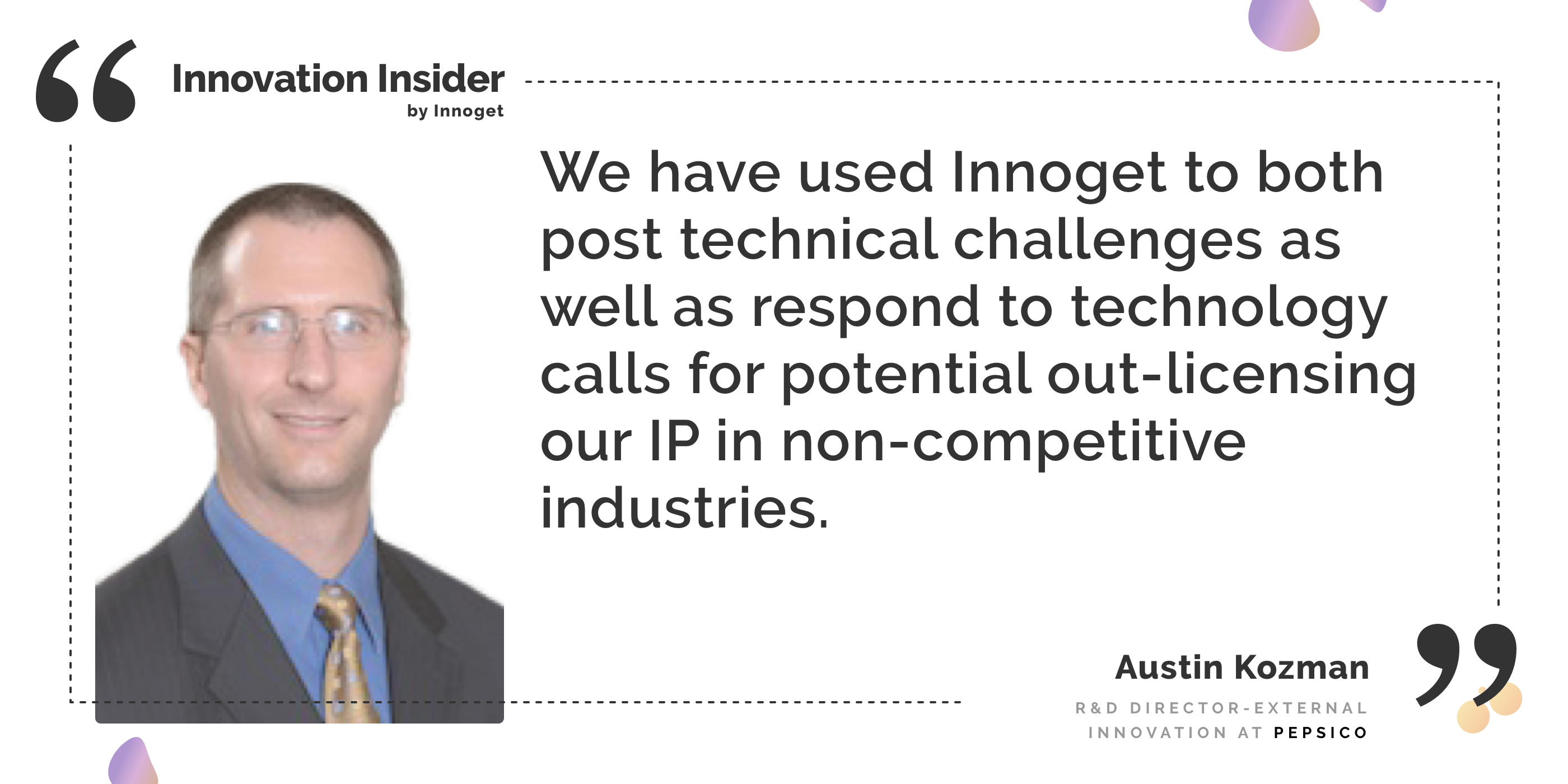 Austin Kozman, Ph.D., P.E., R&D Director - External Innovation at PepsiCo / Austin Kozman
Where do you see open innovation headed and how do you think organizations can prepare for where it is going?
As the Internet of Things (IoT) continues to grow, we will know more and more about our consumers will be able to undertake targeted crowdsourcing on a smaller, more focused scale to solve consumer challenges. Future success will be predicated on which firms are the most nimble to both adapt to changing economic environments and consumer needs as well as disrupt their existing business models to work with emerging innovation.
For large corporation to engage the external ecosystem they will have to more readily turn to employees that have a more entrepreneurial mindset. The same type of hunger and passion that drives successful start-ups will be required by internal employees who have the vision to spearhead those disruptive projects and see them to completion. The first for success is critical for the front end of innovation, where failure rates are high.
Based on your expertise, what are the key elements to implement a successfully open innovation strategy?
- It requires both senior management support as well as grass root adoption by internal R&D stakeholders to passionately drive external ideas into differentiated commercialized products
- Defined methodology to prioritize your critical need areas, understand where open innovation (OI) can supplement internal efforts, concise definition of the challenge for external partners, clear and concise definition of success and quantifiable metrics to track performance, and the infrastructure to quickly transfer external work into internal R&D projects.
- Tremendous amount of potential projects and unsolicited leads; therefore, it is critical to establish a rubric for assessing both the business and technological feasibility in an expedited manner.
What is the open innovation culture like in your organizations?
The open innovation culture at PepsiCo is inquisitive, diligent and hard-working to drive our demanding External Innovation agenda and hit our aggressive targets and metrics. PepsiCo utilizes a majority of its External Innovation resources to focus on direct requests from business stakeholders and provide seamless external partnering capability by:
- accelerating the innovation agenda
- mitigating development risk
- uncovering unique new business/technology opportunities
As an organization, PepsiCo has renewed interest in leveraging External Innovation to create disruptive innovation by collaborating with leaner and more nimble external partners that can explore and test new business models and service opportunities. The entrepreneurial mindset and creative nature of internal employees is a critical aspect of the PepsiCo culture that drives these programs.
Can you share anything about how Innoget helps open innovation activities?
We have used Innoget to both post technical challenges as well as respond to technology calls for potential out-licensing our IP in non-competitive industries.