Innovation Insider: An interview with Barry McGraw, Founder and Chief Laboratory Officer at Airable Research Lab
In line with our mission to track down Innoget users in the world's most amazing organizations to discover their thoughts on open innovation and technology transfer, where they see is headed, and learn more about how is the innovation culture within their organization, this month we interviewed Mr Barry McGraw, Founder and Chief Laboratory Officer at Airable Research Lab to know more about the future of open innovation and key elements for successful implementation.
Green products capitalize on a critical market trend. Growing sustainability concerns have prompted advocacy for stricter chemical regulations, and both evolving policy and consumer preference have stimulated market shifts toward bio-based raw materials. Soybeans have broad applications across both consumer and industrial spheres, often providing benefits in terms of cost, function, and sustainability.
Airable is at the forefront of soy-based R&D. The company works with clients to design and develop new products and processes, with customized solutions based on key performance indicators. The support provided by Airable is available through every development stage, from proof of principle to application development and scale-up to technology transfer.
Airable is a business line of the Ohio Soybean Council (OSC), which has 20 years' experience supporting soy-based product development (and 11 R&D 100 Awards to prove it).
Barry, can you briefly describe your role within the Airable Research Lab and how do you define open innovation?
I'm honored to have worked with the OSC board to conceptualize a laboratory that is 100% dedicated to using soybean components as feedstocks for products and services. I founded the lab and now help to manage it, as well as find the right commercial partners for our solutions.
That is the backbone of open innovation: effective partnerships, both internal and external. The global economy has become too complex for old school protectionism; no one company can possibly hold all the information necessary to attain optimal solutions. In addition, commercial enterprises must now deal with moral, as well as economic, imperatives in terms of sustainability. That's the aspect of the market where Airable can help.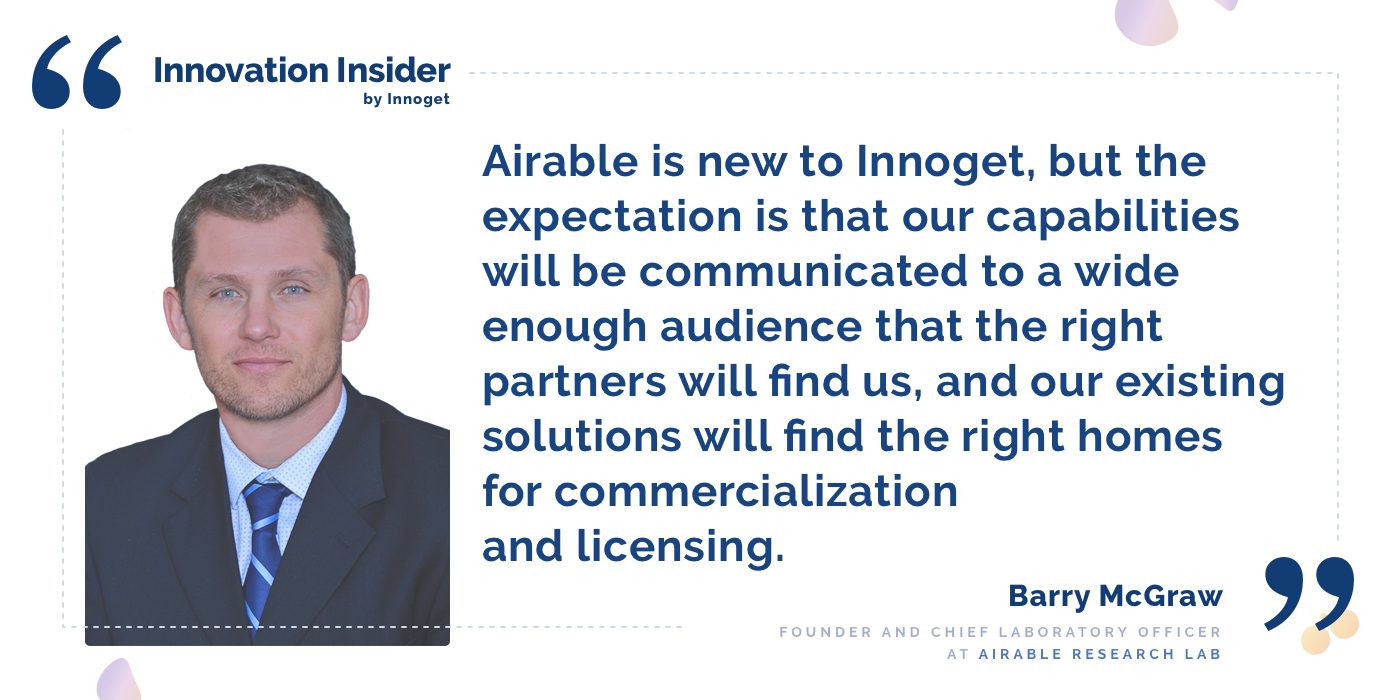 Barry McGraw, Founder and Chief Laboratory Officer at Airable Research Lab / Innoget, OSC
Where do you see open innovation headed and how do you think organizations can prepare for where it is going?
The big changes on the horizon will likely be driven by changing, or even dissolving, national economic boundaries and by increasing consumer involvement upfront (e.g., crowdsourcing). Both will present big challenges, such as how to handle IP. But the potential payoff is enormous—and exciting! Product and service developers can—and now must—think further and further outside the box while retaining the fundamental principles behind free markets.
Based on your expertise, what are the key elements to implement a successful open innovation strategy?
Trust, open communication, and shared goals are the critical elements. Everyone needs to be headed in the same direction; partners can't be working at cross-purposes. And if partnerships lack transparency, there's no oxygen to feed the innovative spark; the focus goes elsewhere. A good legal team should be able to establish ground rules that allow the rest of the players to soar.
What is the open innovation culture like in your organizations?
Airable's purpose is to work with outside organizations to develop soy-based solutions to their product and process challenges, so it is the lab's very nature to encourage cross-sector collaboration. In terms of our history, Airable has access to several research teams—in academia, in national labs, in industry partners—that have provided alternative perspectives to product challenges. Internally, Airable is still fairly small and has a nearly flat management structure, and we encourage ideas and contributions from everyone, across the board.
Can you share anything about how Innoget helps open innovation activities?
Airable is new to the Innoget game, but the expectation is that our capabilities will be communicated to a wide enough audience that the right partners will find us, and our existing solutions will find the right homes for commercialization and licensing. We hope to inspire the next generation of soy-based products to contribute to a sustainable economy, and that's the vision of many, many other organizations as well. Innoget can help find the right fit.