Innovation Insider: Chatting with Hester Tak from PhotonDelta
PhotonDelta is an ecosystem focusing on the opportunities in Integrated Photonics. Having its center in Eindhoven (Netherlands), where various companies, organizations and knowledge institutes engage in Integrated Photonics activities, PhotonDelta's aim is to enable the creation of a new applications in various sectors, including telecommunications, automotive, medical, oil and gas, agriculture, etc. using the next generation of integrated photonics.
We are so proud to have PhotonDelta as part of the Innoget network. We chatted with PhotonDelta's Director Cooperative Hester Tak to find out more about her thoughts on the future of open innovation, collaborative models and key elements to implement a successful open innovation strategy.
Can you briefly describe your role within your organization and how do you define open innovation?
My role is essentially to accelerate implementation of a new collaborative model which aims to remove some of the barriers we typically see in classical public private partnerships. I will lead the process within PhotonDelta to set-up the Cooperative and the secure IP Cloud.
We will be actively reaching out to companies to explain why easier collaboration helps everyone, what we have already put in place and the rules of engagement. As well as actively reaching out to photonics companies, we've opened a new webpage to explain the Cooperative in more detail for companies who will eventually be our end-customers in various application fields.
Open Innovation is a term which is used for many models and can, therefore, mean different things. We've selected a model that is focused on sharing knowledge at an early stage, in a pre-competitive phase. This means that we give insight into primarily publicly funded research output to companies before it is published. In addition to sharing new research results, we offer a platform provided by Innoget where knowledge can literally be exchanged. It also offers facilities and equipment that is available for the Members of the Cooperative.
We believe that through this form of sharing knowledge it will enable smaller companies to accelerate their business by accessing IP they cannot develop themselves and to know that their own IP won't be blocked. Exchanging IP is designed to speed up research and development as well as reduce costs.
In the pre-competitive research phase, it's all about showing what your contribution is to a particular project. The PhotonDelta cooperative agreement ensures there are no free-loaders on the IP system.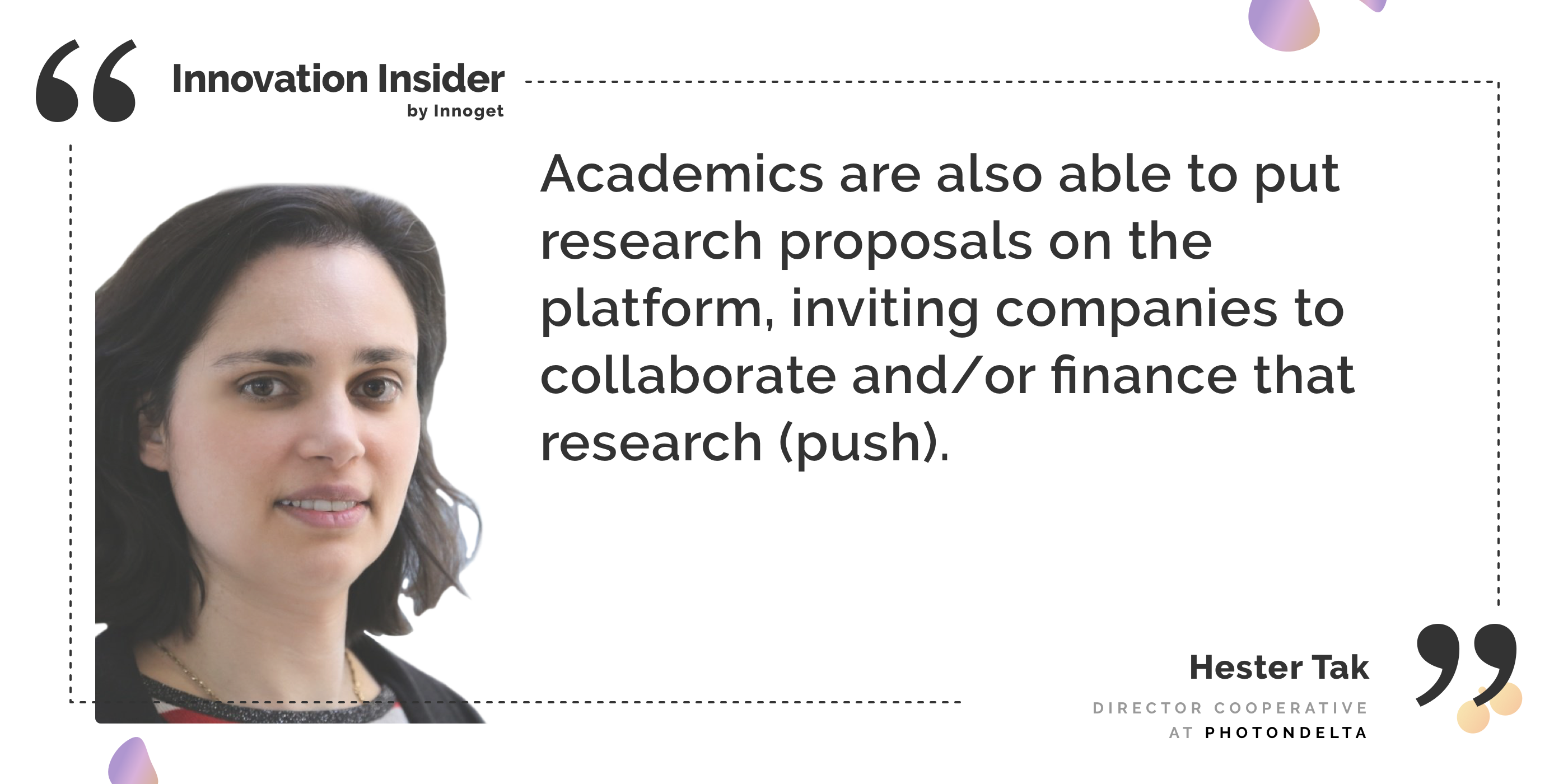 Hester Tak, PhotonDelta's Director Cooperative / Hester Tak
Where do you see open innovation headed and how do you think organizations can prepare for where it is going?
I think that Open Innovation will evolve more into sharing knowledge and insights in a pre-competitive stage. There are already examples in the medical field where there are clear examples of speeding up the development by sharing information and insights during the pre-competitive stages.
We also see a new development in the accessibility of research papers. 'Open Access' seeks to ensure that anyone can access and use these results—to turn ideas into industries and breakthroughs into better lives. On the other hand, we see another trend coming through: innovation cycles are becoming shorter and shorter in order to keep up with the market. This requires fluid alliances which allow organizations to better adapt to, face and embrace disruption.
Based on your expertise, what are the key elements to implement a successful open innovation strategy?
The key elements to implement a successful open innovation strategy are :
1) Common Goals: Common goals are important not only because they develop creativity and innovation but because they bring people together and encourage them to communicate problems and results. This allows for much earlier and faster recognition of problems in the project development.
2) Transparency: A 2005 study shows that a group of 27 U.S. companies noted as "most transparent" beat the S&P 500 by 11.3 percent. This does not mean that you should share everything without thinking twice. Share at least the main features of the situation. It is easier to explain the details once you understand the background and perspective of your collaborators and they understand yours.
3) Trust: Trust makes networks work. High trust among members of a network leads to a certain cohesiveness and capacity to get work done. When trust is low and relationships are plagued by suspicion, networks collapse into brittle organizational structures that rarely offset their operational costs. Trust leads to network resilience, network flexibility and network efficiency.
4) Willingness to share profit as well as risk: Lastly, there should be a willingness to share profits - and risk. Collaboration as a whole will benefit from each individual Member mitigating and managing risk effectively. It is therefore in the interests of each Member to be aware of and to contribute to lowering the risk for each partner organisation, wherever possible. In such a collaboration, parties are all adding value to the project which will eventually lead to monetary value, which in turn, should be shared as well. In addition, an ecosystem needs to be provided which facilitates easy access to knowledge and individuals and an environment where companies can collaborate together.
What is the open innovation culture like in your organization?
As mentioned above, it is a new model that we are trying to implement. We find that both academia and industry need to shift gears when they first hear of our rules of engagement. At first hand, it seems a major change from the classical technology transfer but in reality we work off two objectives:
1) we want to shift the evaluation of the IP prior to publication rather than post publication.
2) facilitate easier access to IP by using low-cost express licensing strategies in exchange for research funding. Although we've had no negative feedback on the above objectives, we do see that parties require some time to change their practices which are needed to achieve these goals, particularly the academic institutions.
Can you share anything about how Innoget helps your open innovation activities?
Using the InnogetCloud tool, research output is shared with the Cooperative members before publication. This includes insights gained, know-how, concrete IP that can be protected through patents, design right or copyright (push) as well as facilities available.
Members have insight into pre-publication results for a limited time period. The information posted on the cloud is merely a summary that is legible to all parties. In addition to allowing members of the Cooperative as well as the academic partners to identify certain ideas or solutions for specific problems they have (pull), academics are also able to put research proposals on the platform, inviting companies to collaborate and/or finance that research (push). Furthermore, facility sharing opportunities are made available to the members by the members.