Innovation Insider: A look inside innovation at Electrolux
We are tracking down Innoget users in the world's most amazing companies to discover their thoughts on open innovation, where they see open innovation is headed, and learn more about how is the innovation culture within their organization.
This week we chatted with Manuel Silva, Open Innovation Project Manager at Electrolux. Electrolux shapes living for the better by reinventing taste, care and wellbeing experiences, making life more enjoyable and sustainable for millions of people. As a leading global appliance company, Electrolux places the consumer at the heart of everything they do.
Can you briefly describe your role within your organization and how do you define open innovation?
Open Innovation (OI) interfaces with all company functions and an external network of innovators with the purpose to capture new business opportunities for Electrolux group.
Our focus is to connect dots - company's strategic needs and innovative solutions from external networks - promoting them internally, at global level and across the overall value chain of the company.
Specifically inside the team I'm responsible for driving the scouting activities in the areas of Global Industrial Operations and Global Technologies.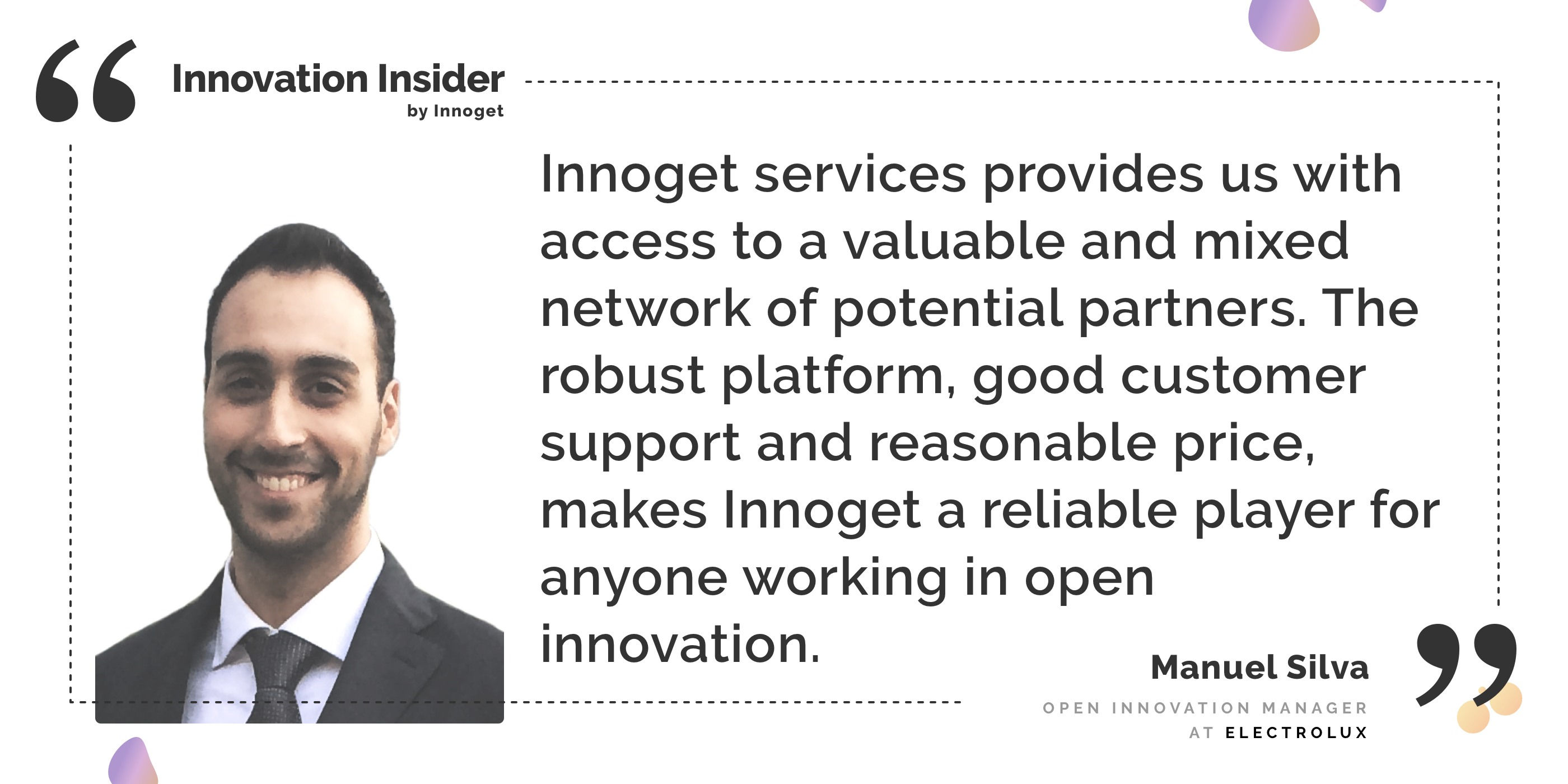 Manuel Silva, Electrolux's Open Innovation Manager / Manuel Silva
Where do you see open innovation headed and how do you think organizations can prepare for where it is going?
Today open innovation is already widespread and everyday more companies are implementing it in their own terms. The way I see it in the long run is being embedded in the company culture from its core, which means, part of the all employees mindset.
In my opinion there are two way to approach it that go in parallel: in one way companies need to train the current employees supporting the cultural change; and two is to make it integral part of the recruiting process, ensuring that new hires have already the right mindset.
Obviously companies need to empower their current and future employees with the proper tools and governance structure to support the correct execution of OI, however this should be one of the first steps to take in order to implement OI.
Based on your expertise, what are the key elements to implement a successfully open innovation strategy?
Definitely the most important element is having top management sponsorship. By doing so, the company is signaling clearly the direction, both internally and externally. This can be decisive in the engagement and commitment to the OI strategy, specially in the initial deployment phase where there can be significant resistance.
What is the open innovation culture like in your organization?
Today, open innovation culture is widespread. Beside the dedicated OI team, we have around 100 OI Ambassadors, spread in multiples location and functions of the company. The Ambassadors have been trained in the OI processes & tools and are able to provide crucial support in not only understanding the needs that drive the OI team scouting but also in the screening/evaluation phase of the incoming proposals.
It's fair to say that the initial resistance to open innovation was less than expected (Not Invented Here Syndrome). In my opinion not only due to the continuous support from top management, but also the achievement of success cases in a short amount of time provided the evidence needed to break the barriers.
Can you share anything about how Innoget helps your open innovation activities?
We have been using Innoget services for quite some time now and I can say it provides us with access to a valuable and mixed network of potential partners. Overall, the robust platform, good customer support and reasonable price, makes Innoget a reliable player for anyone working in open innovation.