This marcus evans conference will discuss organisational issues and other challenges of sustainable innovation, as well as forthcoming trends in R&D and innovation in an open and honest discussion focused on sharing and expanding knowledge and new ideas. The "9th Edition Market-Driven Innovation in R&D" conference will be held September 25-10, 2019, in Berlin, Germany.
Our Market-Driven Innovation in R&D annual conference will enable you to discuss main challenges and solutions in a disruptive business environment. In the context of growing competition, innovation and R&D departments are under a lot of pressure to deliver the best product for the customer in a timely fashion. Our practical case studies and interactive sessions will focus on how to realise innovation through successful commercialization, how to capitalize on the advantages of global and local R&D, how to work on innovation together with your customer and other external innovators, and how to organize R&D to stay truly agile. We will explore building the business on digitalization, the best organisational strategies and new approaches in R&D for your company, as well as the main factors for identifying the best incubators for partnering.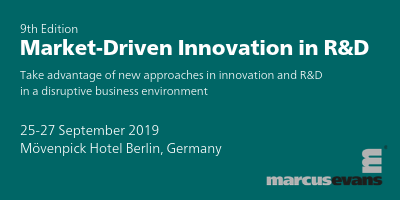 Speakers from Siemens , Bayer, BASF, Johnson & Johnson, Henkel and Schneider Electric to name a few, represent the leading innovators in their respective fields, with a thirst for knowledge and a willingness to share both their success and failures. Attend cutting-edge conference sessions, obtain access to unique expertise and take away new solutions to your day-to-day business challenges. Offering the comprehensive content of a dynamic program and the comfort of a luxurious venue, marcus evans conferences encourage industry thought leaders to learn from each others' experiences and explore key solutions in the market.
The senior level nature of our delegates allows us to unlock the value of their collective experience through engaging delivery formats and a mix of both formal and informal networking. Our delegates are top decision makers, VPs, Directors, Heads and managers of R&D / Innovation / Technology / Innovation & Partnerships / Front End Innovation / Portfolio Management / Product management. The delegates can take advantage of extensive networking opportunities built into the conference agenda, including luncheons and cocktail receptions, all conducted in a professional setting that allows for focused business interactions. 
To find out more please visit the event website: http://bit.ly/33uUY4C
As an Innoget reader, you can benefit from a 200 EUR discount using the code BS170-ING  (This discount is valid only for end users and not consultants or solution providers). For registration fees, please send an email to alexiam@marcusevanscy.com