Barcelona, the ALLIANCE project in collaboration with Innoget is offering an exclusive opportunity for Innoget users to submit their lightweight innovations to the ALLIANCE project technology call. The successful submission will be fast-tracked to the validation phase of the ALLIANCE Lightweight Open Innovation Challenge.
Large and small companies, research centres, universities, and even individuals with innovative lightweighting technologies, are invited to submit their ideas, co-develop them with the ALLIANCE OEMs, suppliers, and knowledge partners, and shape the vehicles of tomorrow.
Europe's key car manufacturers, including Daimler, Volvo, Opel, Toyota, Volkswagen, CRF – the Research Center of FCA; suppliers (Thyssenkrupp, Novelis, Batz, Benteler) and knowledge partners (Swerea, Inspire, Fraunhofer LBF, RWTH-IKA, KIT-IPEK, University of Florence, Bax & Company, Ricardo) are the forces behind ALLIANCE. They share the common goal of reducing vehicle weight by developing new materials and manufacturing technologies, as well as optimising part design.
The ALLIANCE partners are providing innovators with one final chance to participate in the competition and present their lightweighting solutions in two categories: Materials, and Manufacturing. 
Potential applicants have until March 1st to submit their innovations through Innoget. Do not miss this chance to have your technologies discovered by Europe's leading automotive OEMs.
Check out the ALLIANCE project Open Innovation Profile to find further information regarding the challenge and the organizations behind it.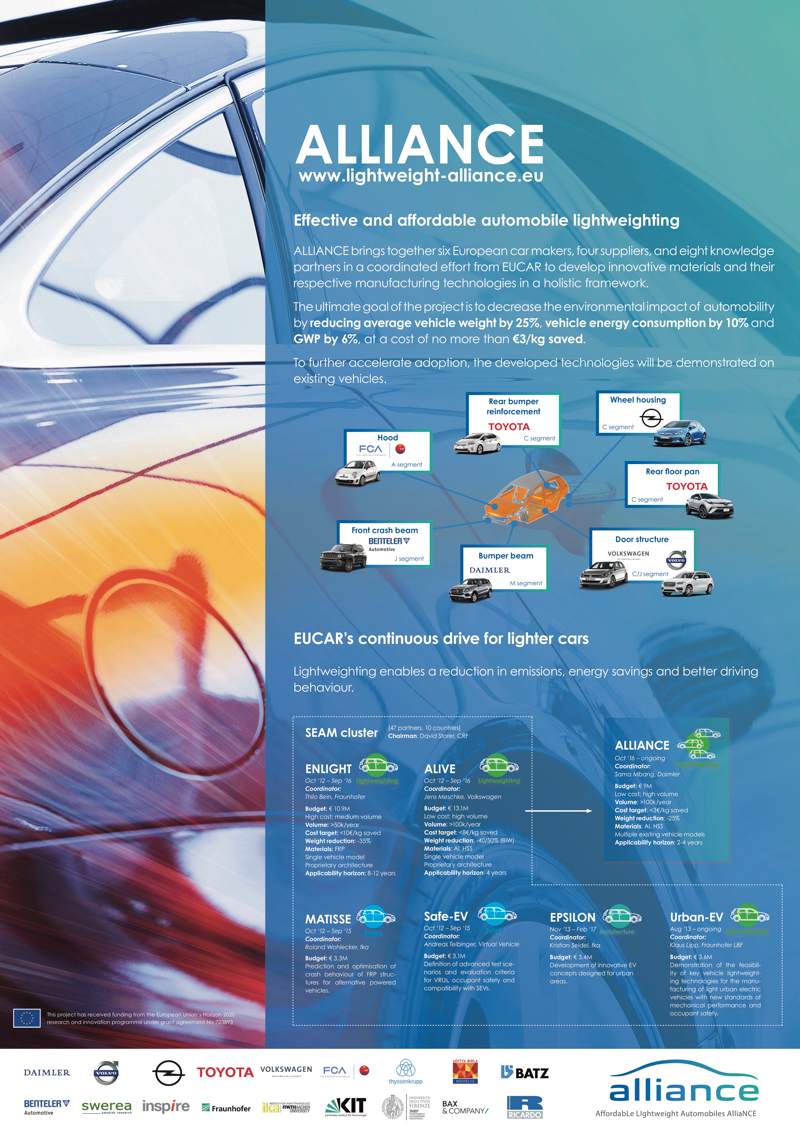 About ALLIANCE: 
ALLIANCE (Affordable Lightweight Automobiles Alliance) is a research and innovation project on automotive lightweighting, co-funded by the European Commission's Horizon 2020 programme and supported by EUCAR, the European Council for Automotive R&D. 
ALLIANCE Lightweight Open Innovation Challenge video: https://www.youtube.com/watch?v=48Ucy2aXIQM
Twitter: @ALLIANCE_H2020
#allianceopenchallenge
About Innoget:
Founded in 2006, Innoget is a trusted open innovation network for business professionals, startups, experts and the academic community to list, discover and get unique online innovation collaboration opportunities around the world. Innoget specializes in helping innovation-oriented organizations find external partners to solve their technical and innovation problems. Over the last 12 years, organizations that partner with Innoget have been able to innovate with less risk, and a t much lower cost by engaging with our multidisciplinary network of experts and +2,500 technologies listed. Innoget is currently taking part in one of the H2020 funded consortiums to boost the innovation efficiency across Europe between industry and academy stakeholders.