Summary of the technology
a new architecture which breaks the deblurring network into an analysis network which estimates the blur, and a synthesis network that uses this kernel to deblur the image.
Project ID : 47-2020-10908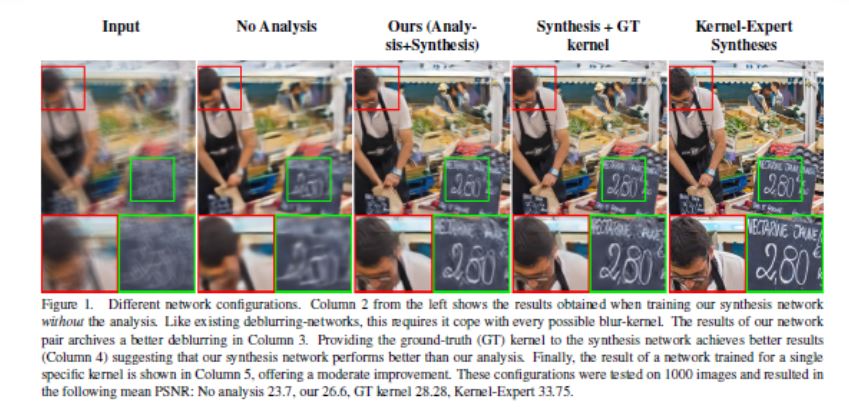 Description of the technology
Category
Computer Science and Engineering
Keywords
Neural Networks, Computer Vision
Application
Motion blur due to *camera shake is one of the predominant sources of image degradation in handheld photography. Blind image de-blurring remains a challenging problem for modern artificial neural networks. Unlike other image restoration problems, neural network architectures for de-blurring fall behind the performance of existing de-blurring algorithms in case of uniform and 3D blur models. This gap follows from the diverse and profound effect that the unknown blur-kernel has on the de-blurring operator.
Our Innovation
We propose a new architecture which breaks the de-blurring network into two parts: an analysis network (kernel) which estimates the blur; and a synthesis network that uses this kernel to de-blur the image. Unlike existing de-blurring networks, this design allows us to incorporate the blur-kernel expressly into in the network's training.
Specifically the advantages this technology are:
New cross-correlation layers that allow for better blur estimations, including unique components that allow the estimate blur to control the action of the synthesis de-blurring action.
When we evaluate this approach over established benchmark datasets, we see the ability to achieve state-of-the-art de-blurring accuracy on various tests, as well a major speed up in runtime.
Results on datasets:https://www.cse.huji.ac.il/~raananf/projects/deblurnets/
Opportunity
Implementation within image editing & communication platforms
Project manager
Anna Pellivert
VP, BUSINESS DEVELOPMENT
Project researchers
Raanan Fattal
HUJI, School of Computer Science and Engineering
Computer Science
Related keywords
Information Processing, Information System, Workflow Management
IT and Telematics Applications
Multimedia
Computers
Computer Graphics Related
Specialised Turnkey Systems
Scanning Related
Peripherals
Computer Services
Computer Software Market
Other Computer Related
Computer Science & Engineering
Neural Networks
About Yissum - Research Development Company of the Hebrew University
Technology Transfer Office from Israel
Yissum - Research Development Company of the Hebrew University
Yissum Research Development Company of the Hebrew University of Jerusalem Ltd. Founded in 1964 to protect and commercialize the Hebrew University's intellectual property. Ranked among the top technology transfer companies, Yissum has registered over 8,900 patents covering 2,500 inventions; has licensed out 800 technologies and has spun-off 90 companies. Products that are based on Hebrew University technologies and were commercialized by Yissum generate today over $2 Billion in annual sales.
Technology Offers on Innoget are directly posted and managed by its members as well as evaluation of requests for information. Innoget is the trusted open innovation and science network aimed at directly connect industry needs with professionals online.