Summary of the technology
Fish feed additive to boost spawning production
Project ID : 47-2019-10823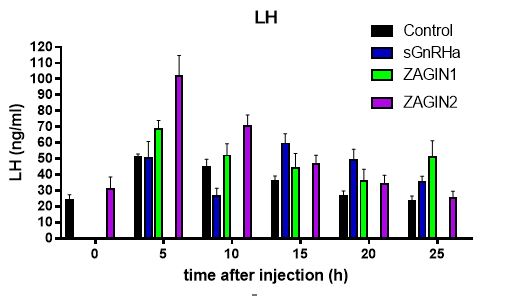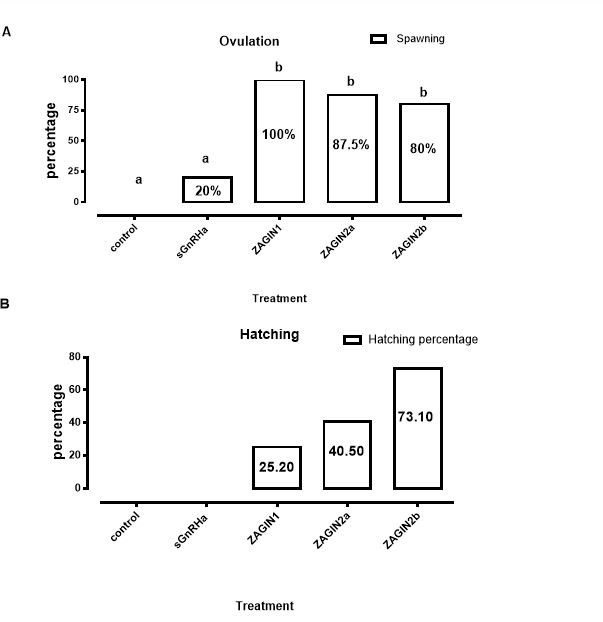 Description of the technology
Category
Agriculture, Aquaculture, Fish Culture, Animal Sciences
Keywords
Spawning, Carp, Aquaculture
Current development stage
General list: TRL4 Technology validated in lab
Collaboration Opportunity
Sponsored Research with an option to License Research Results
Background
Carp represent 40% of the world aquaculture production of fish, crustaceans and mollusks.
In 2015, global culture carp production reached 28.8 million tones, with more than 20 million tonnes were produced in China (link)
According to FAO projections, it is estimated that in order to maintain the current level of per capita consumption, global aquaculture production of carp will need to reach 80 million tonnes by 2050.
Induced spawning in carp fish has traditionally been carried out by a combination of Gonadotropin Releasing Hormone (GnRH) analog, and a non FDA approved dopamine receptor inhibitor, or alternatively by a calibrated carp pituitary extract (CCPE).
Our Innovation
We developed ZAGIN2, a novel spawning agent which utilizes FDA approved materials and is used by intraperitoneal or intramuscular injections.
As such, it has an advantage over commercial spawning agents such as ZAGIN 1 (Drori et al. 1994), Ovaprim, Ovatide which include a non FDA approved component for veterinary use.
Technology
We found a substance that is approved by the FDA for veterinary use and that together with a known compound was found to be a very efficient and spawning induction agent. We named this novel fish feed additive -ZAGIN2.
The ZAGIN2 is more efficient than ZAGIN1 in terms of increasing the spawning-induction- hormone (LH) levels in female carp.
In comparison to commercially available Zagin 1, hatching was significantly improved using ZAGIN2.
Opportunity
We are looking for sponsored research funding in order to test Zagin2 in the lab and at spawning facilities. The Zagin2 will be eligible to receive FDA approval and can be used on fish intended for human or animal consumption - unlike ZAGIN1, Ovaprim and Ovatide which are allowed to be used only on ornamental finfish brood stock.
1.Drori S., Ofir M., Levavi-Sivan B. & Yaron Z. (1994) Spawning Induction in common carp (Cyprinus Carpio) using pituitary extract or GnRH superactive analog combined with metoclopramide - analysis of hormone profile, progress of oocyte maturation and dependence on temperature. Aquaculture 119, 393-407.
Project manager
Ilya Pittel
VP, BD AGTECH, FOODTECH, VETERINARY & ENVIRONMENT
Project researchers
Berta Levavi-Sivan
HUJI, Faculty of Agricultural, Food and Environmental Quality Sciences
Animal Sciences
Related keywords
Agro chemicals
Agriculture
Veterinary Medicine
Agricultural genetic engineering applications
Animal health
Agricultural chemicals
Agriculture, Forestry, Fishing, Animal Husbandry and Related Products
agriculture
aquaculture
About Yissum - Research Development Company of the Hebrew University
Technology Transfer Office from Israel
Yissum - Research Development Company of the Hebrew University
Yissum Research Development Company of the Hebrew University of Jerusalem Ltd. Founded in 1964 to protect and commercialize the Hebrew University's intellectual property. Ranked among the top technology transfer companies, Yissum has registered over 8,900 patents covering 2,500 inventions; has licensed out 800 technologies and has spun-off 90 companies. Products that are based on Hebrew University technologies and were commercialized by Yissum generate today over $2 Billion in annual sales.
Technology Offers on Innoget are directly posted and managed by its members as well as evaluation of requests for information. Innoget is the trusted open innovation and science network aimed at directly connect industry needs with professionals online.