Summary of the technology
Gridless Water Generation from Ambient Air
Project ID : 47-2019-10796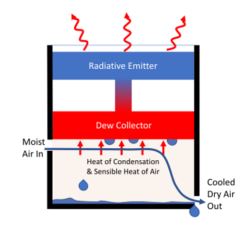 Description of the technology
Categories
Cleantech, Environment,
Keywords
Water, Gridless, Sustainability, Low Carbon, Circular Economy
Current development stage
TRL3 Experimental Proof of Concept
Application
Water scarcity is a pressing global concern and the availability of clean water and sanitation is one of the United Nations' 17 sustainable development goals. Reports show that over half of our planet's population suffers from water shortages for at least one month a year. Air-water-generation is a compelling approach because water vapor is intrinsically renewable, local and potable. Passive methods are of immense value because they do not require power to drive water generation. Currently, maximum yields for passive devices are unacceptably low, ranging up to 0.6L/m2 a day.
Our Innovation
A novel device architecture for passive radiative cooling that overcomes parasitic effects and confounding functions
A system whereby the new theoretical upper limit for daily water generation is between 2-3 L/m2
The system hardware does not use external power; its carbon footprint is effectively zero
Technology
The research group has proposed a new system design that surpasses previously projected theoretical yields, by separating the radiative emitter and the dew collector. The proof-of-concept validated the model when tested under lab conditions.
The operating costs of such a device approach zero, limited to the cleaning of parts and surfaces. There are no moving parts in the final design.
Opportunity
There is a constant need for access to potable, low-cost and carbonless water. Technologies that can do so at local scale will be of perennial interest. Such a technology may be combined with other systems (e.g. local gardens) to provide a source of low-cost, clean water.
Project manager
Matt Zarek
VP, BUSINESS DEVELOPMENT
Project researchers
John Howell
HUJI, Faculty of Science
The Racah Institute of Physics
Related keywords
Environment
Clean Production / Green Technologies
Waste Management
Protecting Man and Environment
Water Management
Drinking Water
Wastewater Recycling
Pollution and Recycling Related
Water technologies
Cleantech & Environment
About Yissum - Research Development Company of the Hebrew University
Technology Transfer Office from Israel
Yissum - Research Development Company of the Hebrew University
Yissum Research Development Company of the Hebrew University of Jerusalem Ltd. Founded in 1964 to protect and commercialize the Hebrew University's intellectual property. Ranked among the top technology transfer companies, Yissum has registered over 8,900 patents covering 2,500 inventions; has licensed out 800 technologies and has spun-off 90 companies. Products that are based on Hebrew University technologies and were commercialized by Yissum generate today over $2 Billion in annual sales.
Technology Offers on Innoget are directly posted and managed by its members as well as evaluation of requests for information. Innoget is the trusted open innovation and science network aimed at directly connect industry needs with professionals online.