Summary of the technology
This Novel Microfluidic circuit has been developed in MicroTechLab of the Mechanical Engineering Department of UPC. Currently, partners to further develop the system and/or to establish commercial agreements along with technical cooperation are sought.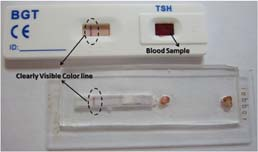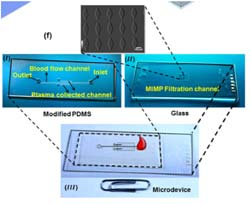 The Challenge

Nowadays, there is a growing need for lab‐on‐chip devices especially in clinical analysis and diagnos cs. First step in most blood assays is plasma extrac on from whole blood.
Compared to tradi onal centrifuga on processes "lab‐on‐a‐chip" devices minimize the manipula on errors, reduce the me from blood collec on to the test and provide faster and yet less expensive and comprehensive results since the amount of sample and reagents are dras cally reduced. Although many researchers have developed plasma separa on from whole blood u lizing different techniques, the volume of extracted plasma and the separa on me are the two main barriers to implement the current commercial test on microfluidic pla orms.
The Technology

This patent presents a novel high throughput blood plasma separa on microfluidic chip which has been designed and fabricated to be used as first step in a point‐of‐care Device to maximize the amount of plasma extracted from a single blood droplet. Hydrodynamic behavior of red blood cells in a Polydimethylsiloxane (PDMS) constric on channel, plasma extrac on using a symmetric cross flow filtra on MIMP (Microchannel Integrated Micro‐ Pillars) channel together with electrokine c techniques are used to maximize the amount of extracted plasma and minimize the me required for a complete separa on.
Current stage of development

Prototypes have been developed and tested. An industrial manufacturing process is defined.
Applications and Target Market

Clinical Laboratories and In Vitro Diagnostic Industry
Innovative advantages

The presented microdevice has several advantages:
Maximized amount of extracted plasma (aprox. 15% initial volume)
Outstanding purity (aprox. 99%)
Minimized required time (less than 3 minutes)
Multiple assay integration in a single microfluidic chip
Intellectual property status
Granted Patent
-
Technology available for licensing with technical cooperation Patent Status US and EP patent application

Technology Owner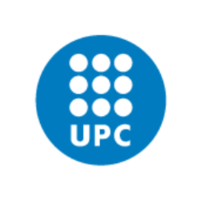 Universitat Politècnica de Catalunya - UPC
Technology Transfer Office
Related keywords
Electronics, IT and Telecomms
In vitro Testing, Trials Technology
Clinical Research, Trials
Diagnostics, Diagnosis
In-vitro diagnostics
In vitro Testing, Trials Market
Clinical Medicine
Laboratory equipment
Diagnostic
Diagnostic services
Other diagnostic
About Universitat Politècnica de Catalunya - UPC
Technology Transfer Office from Spain
Universitat Politècnica de Catalunya - UPC
The Universitat Politècnica de Catalunya - BarcelonaTech is a public institution dedicated to higher education and research in the fields of engineering, architecture and science, which contributes its knowledge and expertise in order to increase scientific output, transfer its results to society and provide a network of scientific and technical state-of-the-art facilities and technology valorization services that place us at the leading edge of innovation and economic development.

The UPC has established itself as a driver of innovation and is the technology partner of choice for companies and organizations with which it develops projects and builds partnerships. A role borne out by the numerous agreements and research projects that have been set in motion by groups, organizations and laboratories; the creation of new technology-based companies; the generation and exploitation of patents, and the scientific and technical services UPC makes available to its environment in order to generate progress and employment.

The Technology Transfer Office (SGI) is responsible of Designing, coordinating and implementing research valorisation strategies, carrying out the protection policy of the research results, marketing these results through license contracts and designing and setting up the University's enterprise creation model in order to transfer the results of the research to the market, protect and commercialize these results, promote the culture of entrepreneurship and innovation, and create technology-based companies within the UPC environment.
Technology Offers on Innoget are directly posted and managed by its members as well as evaluation of requests for information. Innoget is the trusted open innovation and science network aimed at directly connect industry needs with professionals online.