Summary of the technology
1. Pure polymer and composite powders with scale-up manufacturing potential for powder-based 3D printing applications
2. Cheap, simple and straightforward manufacturing methodology
3. The proposed composite powder can easily be manufactured into composite filament for filament-based 3D printer.
4. No requirement of additional mixing or blending of filler materials with polymer, as the powder itself the blend of polymer and fillers.
5. The application of these nanocomposite powders will not only be limited to 3D printing applications but also can be used for cold-spray coating, extrusion mouldable composite materials processing where the dispersion of filler materials is challenging.
Description of the technology
We have the technology to produce polymer (Polylactic acid, PLA, polypropylene, PP and other polymers) powder with scale-up manufacturing potential for 3D printing applications (especially, for powder bed infusion technique, SLS). This technique uses a cost-effective and straightforward single-step methodology to produce the polymer powder of various sizes (from submicron to 400 microns). The key advantage of this technology is to the addition of filler materials (including nano and micro-particles ) directly in the polymer during the powder processing step.
It is well known that most of the nanoparticles pose aggregated nature when they are in dry powder form. Therefore, the dispersion of nanoparticles within the nanocomposite materials is quite challenging. On the other hand, the addition of aqueous suspension of well-dispersed (never dried) nanoparticles in a non-water-soluble polymer (for example, PLA, PP) is also proved to be challenging. This technology has already proved the feasibility of incorporating aqueous suspension of filler materials within the non-water soluble polymers prior to formation of composite powders (for example, nanohydroxyapatite within PLA or CaCO3 in PP powder, please see the attached images). We also envisage that this technology might resolve the current poor dispersion issue of nanoparticles within nanocomposite materials.
This technology can be validated further to file a patent, therefore, expecting powder manufacturing and 3D printing industries will be interested in acquiring this technology.
Current development status
Experimental technologies
Desired business relationship
Patent licensing
Adaptation of technology to other markets
Technology Owner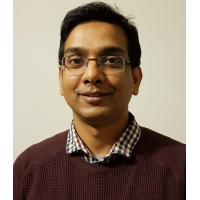 Zakir Hossain, PhD
R&D Staff / Researcher at University of Bath
Additional information (attached documents)
Related keywords
3D printing
Industrial manufacturing, Material and Transport Technologies
Industrial Manufacture
Mixing (powder, etc.), separation (sorting, filtering)
Materials Technology
Ceramic Materials and Powders
Composite materials
Plastics, Polymers
Nanomaterials
Industrial Technologies
Commodity chemicals and polymers
Polymer (plastics) materials
About University of Bath
Technology Transfer Office from United Kingdom
University of Bath
The University of Bath is a leading UK research university, dedicated to making a positive impact to the world we live in.

The superb facilities and practical support available at the University has created an ethos and environment which inspires a culture of innovation and fresh thinking. The University's researchers engage closely with industry, the public and policy makers to explore challenging projects that examine the questions and inform the solutions that make a difference to society.

The University of Bath offers innovative and demanding degree programmes to the world's brightest students, giving them the skills they need to succeed in the most competitive work environments. It is located in the UNESCO World Heritage City of Bath, UK. The city was established as a Roman spa town and is famous for its spectacular Georgian architecture.
Technology Offers on Innoget are directly posted and managed by its members as well as evaluation of requests for information. Innoget is the trusted open innovation and science network aimed at directly connect industry needs with professionals online.