Summary of the technology
Enhanced Nasal Drug Administration to Brain by a New Nanotechnology: The Phospholipid Magnesome
Project ID : 6-2018-6687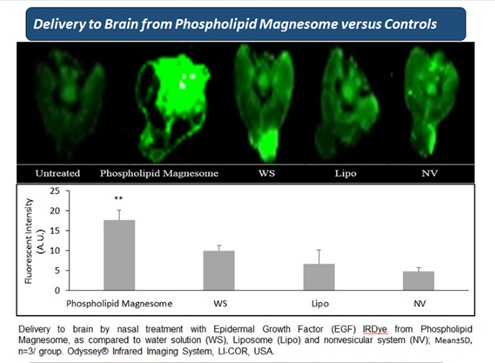 Description of the technology
Categories:

Life Science & Biotechnology, Nanotechnology

Technology Keywords:

Nasal delivery, CNS, quick onset,

peptides ,brain

Development Stage:

Formulations, results in animal

Patent Status:

WO/2019/049145
Highlights
We have designed and developed formulations based on a new nano-vesicular carrier containing Magnesium- the Phospholipid Magnesome.This drug delivery nanotechnology was tested in animal models. Results show enhanced efficacy versus controls.
Key Features
Improved delivery into the brain – quick onset
Better bioavailability by nasal route than by oral or subcutaneous routes
Particularly important in crisis management of pain, Parkinson rigidity, multiple sclerosis, Alzheimer, insomnia, glioma, sleepiness (EDS), epileptic seizures, hyperglycaemia, hypoglycaemia, hot flushes, emesis,
Carrier ingredients already have FDA approval.
Increase patient compliance - needle-free alternative for delivering drugs for acute and chronic conditions, allowing self-medication.