Summary of the technology
Enhanced Nasal Drug Administration to Brain by a New Nanotechnology: The Phospholipid Magnesome
Project ID : 6-2018-6687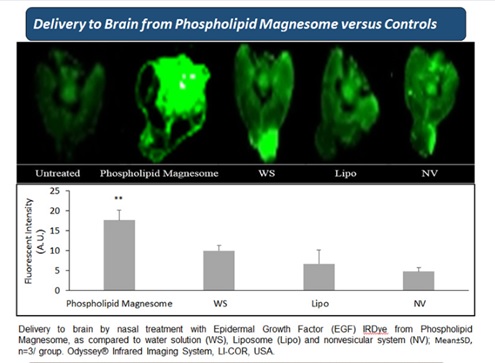 Description of the technology
Categories:
Life Science & Biotechnology, Nanotechnology
Technology Keywords:
Nasal delivery, CNS, quick onset,
peptides ,brain
Development Stage:
Formulations, results in animal
Patent Status:
WO/2019/049145
Highlights
We have designed and developed formulations based on a new nano-vesicular carrier containing Magnesium- the Phospholipid Magnesome.This drug delivery nanotechnology was tested in animal models. Results show enhanced efficacy versus controls.
Key Features
Improved delivery into the brain – quick onset
Better bioavailability by nasal route than by oral or subcutaneous routes
Particularly important in crisis management of pain, Parkinson rigidity, multiple sclerosis, Alzheimer, insomnia, glioma, sleepiness (EDS), epileptic seizures, hyperglycaemia, hypoglycaemia, hot flushes, emesis,
Carrier ingredients already have FDA approval.
Increase patient compliance - needle-free alternative for delivering drugs for acute and chronic conditions, allowing self-medication.
Project manager
Shani Bullock
VP, Business Development, Healthcare
Project researchers
Elka Touitou
HUJI, School of Medicine - IMRIC
School of Pharmacy- Institute for Drug Research
Related keywords
Medicine, Human Health
Biology / Biotechnology
Genome Research
Micro- and Nanotechnology related to Biological sciences
Recombinant DNA
Monoclonal Antibodies and Hybridomas
Gene Splicing and Manufacturing Equipment
Other Genetic Engineering
Molecular design Market
Microbiology Market
Micro- and Nanotechnology related to Biological sciences
Biochemistry / Biophysics Market
Toxicology Market
In vitro Testing, Trials Market
Stem cells and biobanks
Cellular and Molecular Biology Market
Population genetics Market
Gene Expression, Proteom Research Market
Bioinformatics Market
Enzymology/Protein Engineering/Fermentation
Genetic Engineering Market
Diagnostic
Therapeutic
Other Medical/Health Related
Agro and Marine biotech
Anatomy, Pathology, Immunology, Physiology
Clinical Medicine
cns
Life Science & Biotechnology
About Yissum - Research Development Company of the Hebrew University
Technology Transfer Office from Israel
Yissum - Research Development Company of the Hebrew University
Yissum Research Development Company of the Hebrew University of Jerusalem Ltd. Founded in 1964 to protect and commercialize the Hebrew University's intellectual property. Ranked among the top technology transfer companies, Yissum has registered over 8,900 patents covering 2,500 inventions; has licensed out 800 technologies and has spun-off 90 companies. Products that are based on Hebrew University technologies and were commercialized by Yissum generate today over $2 Billion in annual sales.
Technology Offers on Innoget are directly posted and managed by its members as well as evaluation of requests for information. Innoget is the trusted open innovation and science network aimed at directly connect industry needs with professionals online.